The Phoenix One Journals Stories from the dawn of RoadTrip America
November 29. 1995
Laguna Seca, California
RUN FOR THE ROSES
The Phoenix brought us from ocean to ocean in November, and required an inland sea of gasoline to do it. We covered over five thousand miles. At about nine miles to the gallon... well, you figure it out. Mobil likes us.
Before leaving Maine we went to Caribou, which is surrounded on three sides by Canada and all sides by potato fields, we set up our Wizards of Wonder exhibit at the Caribou Craft Fair. It was a success in spite of a heavy rainstorm and a brief blackout. The gloomy weather seemed to make everybody think winter had arrived, and this is a good thing if you're selling Christmas ornaments.
Business was brisk, and we enjoyed meeting Darlene & Voscar Nelder, Ron Boutat, Brenda & Joyce, Philip Walker, and Ray & Lynda Lee. On our way out of Maine, we were pleased to cross paths with Gene Wright, Adolph Shemkovitz, Timothy Mayo, Jim Russo, and Tom & Susan Kennedy.
Heading south, we paused in Sutton, Massachusetts, at the home of our friends Tom, Ivy, Andrea and Alex Martin. Tom, a professor at Holy Cross College, is working on the latest edition of the Perseus Project, a CD-Rom resource for classicists, archaeologists, historians, and anyone else interested in ancient Greece. Published by Yale University Press, the Perseus Project includes thousands of images of Greek architecture and art, maps of ancient sites, Greek texts, a Greek-English lexicon, and a historical overview. Ivy, who teaches at Clark University, is also working on a CD-Rom that will teach Latin.
Before leaving Sutton, we gave a talk and slide show about our adventures at the BeaumontRetirement Home, a lovely retreat in the hills where we met Ruth Alton and Connie Dion.
Most people visit Hershey, Pennsylvania, to get a free piece of chocolate and a look at the intersection of Chocolate and Cocoa Avenues. We did, too, but the real highlight of our stay was meeting Mike and Marjie Markowski, book publishers who live nearby. We enjoyed two evenings of dynamic conversation and a tour of their offices.
Driving south through Delaware, we enjoyed the coastal wetlands and views of Chesapeake Bay. We were thinking we were off the beaten track until we drove through a tiny Maryland hamlet where a sign read, "You Are Now Leaving Beautiful Downtown Goldsboro, the Hub of the Universe." New York? L.A? Did you know?
Washington D.C. turned out to be full of surprising wonders, too. We hooked up with our friend Paul Bethe, who likes to go sight-seeing even though he lives there. Together we explored "America's Catholic Church," also known as the National Shrine. It includes an enormous basilica, an underground church, a crypt, a museum, offices, a cafeteria and two bookstores.
The Medical Museum at Walter Reed Hospital was our next stop. Exhibits here are definitely not for the squeamish. In addition to Siamese twins and other anomalies preserved in formaldehyde, visitors are treated to displays of Civil War bullet wounds, models of facial deformities, a human hair ball, and a pair of shorts retrieved from a shark's stomach. Phew. To get back to normal, we decided to head for the Air and Space Museum.
The Enola Gay has been on display for a few months now, and we were able to walk right in and see the famous flying machine that dropped the bomb on Hiroshima. Our excellent adventures in Washington culminated with lunch at an Ethiopian restaurant. Is there another city in the world that offers as much variety within such a small circumference?
Heading towards New York, we were barred from driving on all the main roads because we were carrying propane, and in Maryland and New Jersey, that counts as HAZMAT. Guided by our GPS receiver and a vague map, we found ourselves in the middle of New Jersey's half of Big Apple sprawl. We made it through Newark on surface streets, proving that the Phoenix is capable of urban assault.
Our odyssey continued through the Scylla and Charybdis of the South Bronx and the George Washington Bridge, and we finally made it onto a road with no rules against trucks. It took us most of the way to Pleasantville, although we didn't actually arrive without one last unintentional detour around Kenisico Reservoir in the dark. We were nearly out of gas, and it had started to snow when we pulled up in front of our destination, the Brennesholtz house. Pleasantville had never seemed quite so pleasant, and the week we spent with Libby (Megan's sister), Matt, Eleanor and Margaret was mighty pleasant, too.
The last night we were in New York, we attended a dinner celebrating the work of the American School of Classical Studies in Athens. Held at the Knickerbocker Club in Manhattan, the evening's highlight was a talk and slide show given by John Camp, who directs the American excavations of the ancient Agora in Athens. Over excellent dinner and conversation, we were pleased to meet Martha Slaughter, Toni Shassler, Rob Loomis and Doreen Spitzer.
The next morning we set out to traverse the continent under time pressure. We wanted to be in Santa Cruz, California, for Thanksgiving. We had five days. The interstate highways we usually eschew were suddenly important allies. Good weather accompanied us through Pennsylvania, where we stopped to buy propane from Bill Reading in Lenhartsville. Our route took us through West Virginia and Missouri. A refueling stop in Oklahoma City led to our meeting Eugene Smith, Lois Kelough, Leroy Powell Jr., Freeman Miles and Matt Mason. We were making such good time, we decided to swing through Taos, New Mexico, where we enjoyed seeing Laura & Richard Spears and Gene Beckwith. Even with the detour, it looked like we'd make it to our destination by Wednesday night.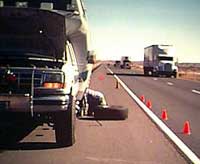 Then, about 35 miles east of Flagstaff, BAM! A rear drive-axle tire had had enough. Changing a tire on I-40 is a trial even in bright Arizona sunshine. "But having the right tools makes all the difference," said Mark as he put away two jacks, fourteen jack blocks, an enormous wrench, a crowbar, six traffic cones and a reflective triangle. The Service Crew at the Flagstaff Discount tire store supplied us with a new spare almost immediately, even though they were very busy.
The blowout meant that we drove up in front of the Sedenquist house in Santa Cruz about an hour before the turkey was carved. Dan, Lynette, Josh, Michelle, Nicholas, Diana, Charlie and Margaret seemed happy to see us anyway, and it was easy to think of a thousand things to be thankful for as we sat down to a splendid repast.
The next day, Megan went into San Francisco to attend a Mensa regional gathering where she met Barbara & Tom Canup, Ramona Reichl, Bennett Wall & Robin Winburn, Sue Garadis, Eric Zamost, Sue Ann Buchanan, Yorkman Lowe and Erwin Kuhn. Mark stayed in Santa Cruz to play with nieces, nephews, cats and dogs. He also enjoyed visits with Don & Diane Montague and David, Chelsea & Brandon Bardellini.
Tonight we can see the world-famous Laguna Seca Raceway from our "dining room" window. Tomorrow we'll complete our own "run for the roses"-- Mark's Rose Parade duties beckon in Pasadena.
When we counted our blessings at Thanksgiving, you were among them. May your holidays be filled with happiness, prosperity and the best of times!