The Phoenix One Journals Stories from the dawn of RoadTrip America
October 27, 1996
Presque Isle, Maine

THE WAY LIFE SHOULD BE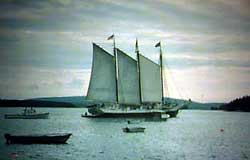 Maine has kept us entranced for nearly two months now, and we've barely scratched the surface, barely begun to explore the forests and coastline, and hardly started to appreciate the remarkable people who live down East. Lobsters, lighthouses and L.L. Bean may be Maine's claim to international fame, and they'd be enough to keep anyone coming back. But wait! There's more!
There's Boothbay Harbor, which we explored on a perfect autumn day. In addition to walking along the rocks and beaches, we shopped at Al and Melissa Cohen's amazing huge red store, Big Al's, where it's hard to spend more than a dollar for a treasure, and you can't leave without a free gift. From the causeway connecting Booth Bay to the mainland, we saw the remains of a big old shipwrecked schooner exposed by low tide, and later, from Shore Hills Campground, we watched clammers at work.
Our northward path brought us at last to Deer Isle, where we visited our friends Phyllis and Dave Goddard at their splendid hideaway on Eggemoggin Reach. Their private road wasn't designed with 12-foot high trucks in mind, but we actually drove to their door without ripping out their phone line.
What a fabulous place! Their house is so close to the water that at high tide you can almost dive off their deck. Schooners under full sail pass by all summer, and all kinds of birds visit the mussel beds.
A trip to a local fisherman's establishment yielded a huge feast of lobsters and mussels, which we devoured while watching the sunset from Phyllis and Dave's dining room. When we first drove into Maine from New Hampshire, we saw a sign that read "Maine. The Way Life Should Be." Dining with friends on ambrosia, watching twilight fall on the water-- guess the sign was right.
The next day, Phyllis and Dave gave us an insider's tour of Deer Isle and Blue Hill. In Stonington Harbor, we met Evelyn and Jan Kok, proprietors of the Purple Fish Gallery. Evelyn is an artist and a musician, which means that one of the things you can buy at the Purple Fish is a "singing bookmark," which has the words and music to a song (by Evelyn, of course) printed on it. Once Evelyn has personalized your bookmark for you in exquisite calligraphy, she gets out her guitar and teaches you the song. After we made it through a two-part round, Evelyn and Jan delighted us with an original madrigal about a memorable visit to a rabbit farm.
In Blue Hill, we met Serge Liros, owner of Liros Gallery. The Wooden Boat School was our next stop, and, luckily for us, classes were in session. One of the instructors explained how long pieces of wood are steamed long enough to be flexible, and then shaped to fit a boat's hull.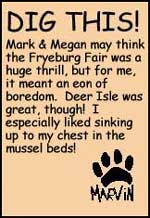 Next we visited Nervous Nellie's Jams and Jellies. In addition to making delicious preserves, Nervous is also a sculptor. His large and original works vary in subject from Don Quixote to dinosaurs. Our lifestyle right now doesn't permit indulging in monumental art, so we had to be satisfied with a jar of hot tomato chutney.
It was hard to leave Deer Isle and easy to see why Phyllis and Dave come all the way from California as often as they can to enjoy this wonderful combination of landscape and lifestyle. However, your Phoenix Adventurers had signed themselves up for a new undertaking, and it was time to head southwest to get things started.
The fire in 93 that started our wanderings burned our 4-month-old retail business along with our house. The original Wizards of Wonder sold puzzles, games, and unusual toys at county fairs, music festivals and other special events. Without inventory, WOW lay dormant until... this month! Yes, from October 1 to 8, WOW had an exhibit at the Fryeburg Fair, the largest agricultural fair in Maine, now in its 145th year. The fair staff, including Dean, Don, Glenn and June were wonderfully helpful and welcoming.
Our operations were limited in size by the amount of storage space available inside the Phoenix. We sold personalized holiday ornaments and place cards. By the end of eight days Megan had adorned over five hundred ornaments with names, dates, places, and even lucky lucky lotto numbers.
As happy as we were with attracting so much business at the Fair, we were even more delighted to meet so many interesting people. Our neighbors in "Expo 3" included John and Judy Calley, who ran the Green Mountain Coffee booth, Kenyon King, Hants & Annie White, and Marilyn Smith from the local animal shelter. Ed (a.k.a. "Mr. Twister the Pretzel Guy") and Allison Cooke kept us healthy with their fresh hot wares, and Ray and Linda supplied all-too-yummy saltwater taffy from Ray's Candyland. A few friends who joined the Phoenix journey this month are Lisa Herron, John King, Ken Philbrook, Dickie & Adrian Labire Jr., Judith & Lauren Good, Robert & Judy Collins, Neal & JoAnn Edwards, Gerald & Sandy Farrar, Lorraine Enos, Dennis Whall, Richard, Marie & Peter at Brett Packaging, Alex & Tricia Baumhoff, Bart Lally Jr., Jeremiah McCarty, Steve & Sherie Holtby, Bob Desmond, David & Sandra Dubois, Beverly at Quick Print, Paul Roy, Larry, Dave et.al at Bannerama, Regina de May, Diane, Lyndsay, Trevor & Bruce Robertson, Tom Behny, Barb & Bob Kinney, Kay Thomm, Rabbi Gross, Peggy & Milon Fuller, Brian Richard, Brian Lynch, and Bob Klar. Special greetings to Ed Killian, and Happy Significant Birthday to Roy Sikora!
Kenyon King, whom we'd met at Fryeburg Fair, gave us a memorable tour of Loghouse Designs in Chatham, New Hampshire, where he manufactures outdoor clothing and equipment for retailers in the U.S. and Europe with state-of-the-art computerized equipment. One of his buildings is of great historical interest-- it had an indoor three-story privy! It's still in use, too, but now it's an elevator. Before we left, Kenyon treated us to a marvelous tour of the White Mountains by air in his Cessna 182.
We visited Tom Martin, Ivy Sun and their children Andrea and Alex in Sutton, Massacchsetts, where they live right on the edge of a lake. Our stay was great, but way too short, and we're planning another stop there next month. We surprised Mark's mother, Margaret, at a meeting she was attending in Springfield, Massachusetts. After a terrific lobster feast, where we met John Oler and Steve Bushey., we drove all night to get to Portland, Maine, where Bill Lary from Hillman Auto Electric re-worked our electrical system. That night we enjoyed a restorative evening in a wood-fired sauna and hot tub at the aptly named Durham Leisure Center.
In Freeport, we strolled through the L.L. Bean retail emporium, which boasts an indoor trout pond. We almost ran out of gas in Bowdoinham, but we were rescued by Allan Frizzle, who appeared at his closed Mobil station as if by magic.
Yikes! So much to say! So little space! Thank you, thank you for your gifts of postage!