The Phoenix One Journals Stories from the dawn of RoadTrip America
Columbia, California
April 24, 1994
ON THE ROAD— FINALLY!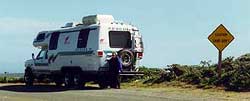 Prior to our departure on this adventure, I imagined that the driving beat and lyrics of the Steppenwolf song, "Gettin' out on the Highway" would be blasting from our on-board CD while we zoomed up the mountains in a style and manner consistent with Easy Rider. The version of reality that we encountered as we traversed the earthquake-altered Interstate 5 through the grapevine was a bit more genteel. One lesson from this odyssey is surely that a six+ ton vehicle does not zoom up any mountain, and Kenny G or Michael Pettrucciani is a more appropriate musical accompaniment.
The adventurous spirit of the Phoenix One soon asserted itself by the selection of a route over the mountains that had, at the road fork, seven different warning signs regarding the inadvisability of any vehicle using the road in excess of thirty feet. Since our vehicle is a scant 32 footer we knew it could be fun... and it was. There were a variety of looks from the drivers we met, including a reasonably stunned driver from a small 4x4 CDF fire truck. (The corner was too steep and tight to slow down below flank speed).
The ceanothus and other wildflowers that we have seen have been breath-taking. Sitting on an unnamed bluff overlooking the cliffs north of Bolinas I could almost feel the earth magic that is described in the Indian lore of the region and is said to seep from hidden locations near this beautiful coast.
Days of discovery and challenge continue to greet us on this journey. Certainly another lesson for me has been the awakening of an understanding that predicting a day's events and the people that we will meet or the amazing places that we will visit is a use of time and energy that might be better used in another fashion. We have already had some magical times with the friends and family that we have visited. If you haven't seen us yet, rest assured that we are just around the bend. Thank you for being a part of the Phoenix One Mission!
WE'RE ON THE ROAD, BUT WILL WE EVER GET THERE?
If you don't have a destination, you never arrive. Or else, as we're finding out, you're already there. Our current "there" is Columbia, California, a tiny Gold Rush hamlet between Sacramento and Yosemite. We're staying in an RV park that used to be a ranch. Now, instead of prospectors and cowboys, it's inhabited by vacationers and people who live here full time.
The vacationers are a large group of retired people who belong to the "Good Sam Club." They have magnificent barbecues every evening and play games in the barn far into the night. The long-term residents include people recovering from cancer, divorced people who didn't get the house, and people who like full-time camping as a lifestyle. We haven't met anybody in quite our situation. We haven't seen any vehicles like ours, either. Everywhere we go, we attract attention, and it's easy to strike up conversations. I never dreamed the Phoenix One would stand out as much as it does, but I figure we might as well enjoy being unique.
We're still getting used to living as nomads. Life on the move is giving me all the solitude I can possibly use to write. Before I took to the road, there were always plenty of distractions, but now I have to manufacture them if I want to avoid it. Life's rough, ain't it?
You may be surprised that we're still in California. Maybe I am, too, but we're enjoying a slow pace, the kind you can enjoy only if you don't have deadlines and itineraries. Who knows where we'll be next month? I don't think it'll be Columbia, but stay tuned...