The Phoenix One Journals Stories from the dawn of RoadTrip America
September 23, 1995
Nubble Hill, Maine

NORTH BY NORTHEAST
September began with Dixieland, but now we're humming Yankee Doodle. The last few weeks have carried the Phoenix south to north, crawdads to lobsters, palmettos to pines, and summer to fall. Here we are in the far north-- or down east, as they say here-- getting out our wool shirts and joining the natives in preparing for winter. The leaves are changing color in front of our eyes. Every day, the hillsides are a little more brilliant, and a new burst of red or yellow greets us around every bend.
Our journey from southern climes began in Maryland, where we stayed at Williamsport. After zipping past the National Fire Academy, lunch at Cunningham Falls, a stop at a house shaped like a shoe, and a delightful drive through the small towns and bucolic countryside of Lancaster County, Pennsylvania, we stopped at Eagles' Peak, a beautiful forested hideaway in the hills.
The next morning we enjoyed Eagles' Peak longer than we had expected, because the Phoenix woke up with a flat tire. Flat #6, caused by a large nail, was soon replaced with Spare #1, and we headed for Quakertown to buy a new tire.
As soon as the Phoenix was back on six wheels, we continued north through New Jersey on a path aimed straight at New York City. After taking the Phoenix through the Bronx and over the George Washington Bridge, we'll never bother with Mr. Toad's Wild Ride again. Nothing at a theme park beats true adventure. Nothing matches New York potholes.
Evening fell on us in Old Mystic, Connecticut, where we stayed near the coast and felt the first hints of fall in the air. In the morning, we continued our trek up the Eastern seaboard on I-95 towards Massachusetts.
Normandy Farm, near Boston in Foxboro, became our base of operations for the next few days as we prepared to embark on divergent paths. Megan flew from Logan Airport to San Francisco to spend Labor Day weekend in Monterey, California. Mark joined up with Mark Harmsen from Pasadena and headed for Cape Cod.
It would be difficult to say which is a nicer place to be the last weekend of summer. Megan was greeted by perfect, clear weather and a large group of enthusiastic Mensa members at Asilomar Conference Center in Pacific Grove. Mark was welcomed by Mark and his parents, Lois and Ty Harmsen at their lovely home, Snug Harbor, at Falmouth on Cape Cod. Daily naps and strolls through the villages of Woods Hole and Chatham were complemented with gorgeous clear vistas and the unbeatable late summer weather on the Cape.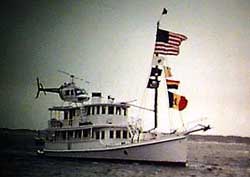 After a great day with David Kirby exploring San Francisco by train and touring the aquarium in Golden Gate Park, Megan flew back to Boston and joined Mark on the Cape. With Mark Harmsen as our excellent guide, we spent a day on Martha's Vineyard. He introduced us to the Black Dog Tavern and took us to Vineyard Haven, Oak Bluffs and Edgartown. It is easy to see why people go back year after year to summer there, and it was mighty difficult to leave.
Marvin tried to convince us to stay at Snug Harbor with the Harmsens for the rest of his life, and it was tempting to be persuaded. Somehow, though, we managed to tear ourselves away and head north to Provincetown. After a two-day jaunt "down Cape" to look at the dunes and beaches of its northern edge, we headed back to the mainland.
Heading north up I-95 again, we crossed into New Hampshire, emerged into Maine, and stopped at Scarborough near Old Orchard Beach. Driving inland the next day, we caught our first glimpse of the White Mountains, and stayed at Glen, New Hampshire. Today we are enjoying the autumnal metamorphosis of the forests on the edge of Cresecent Lake in Maine before we strike even farther north into this ever-changing wonderland.
Our thanks go to Joyce Martin who fast-tracked the publishing of the Phoenix Journal last month at American Press & Graphics in Front Royal, VA. Friends who joined the Phoenix journey this month include the Finger Family, the Daniels Family and Staff of Normandy Farm, Mary & Bob Snyder, Joe & Jolene Crosby, George & Mary Lou Fuller, Gary & Peggy DeWitt, Mark & Becca Knobil, Bob & Roberta Bitel, Larry Petrin, Lyla White, Gerald & Grace Glass and David Knapp. We have been blessed with contributions of postage and money this month. Thank you for your generosity!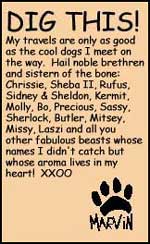 We meet many wonderful people as we travel, but we also cross paths with animals. We can't always get their names, but we remember them nonetheless.
THE SCREAMING FROGS OF ALABAMA
Walking by a small pond near the Space & Rocket Center, we heard, "Eeek!" Splash! "Eeek! Splash! Closer examination revealed we had disturbed the local amphibious residents.
THE AIMLESS ARMADILLO OF FLORIDA
Actually, the armadillo was probably looking for food, but we watched him snuffle through the swampgrass for ten minutes before he realized that two humans and a dog were practically on top of him. The look of utter surprise and sheer terror on his little pointed face was unforgettable.
THE DILIGENT BEAVER OF VIRGINIA
Beavers are almost mythological creatures to Californians, and we'd never seen one in the wild. Near Charlottesville, we watched an industrious beaver work on a dam until he caught sight of Megan's purple shirt and quietly slipped away.
THE ENTERPRISING MUSCOVY DUCK OF CALIFORNIA
A strikingly ugly creature, this single-minded bird had established himself as sole panhandler of an entire campground in Red Bluff. Even the local dogs let him alone. He made morning and evening rounds to every campsite. Needless to say, he was one big duck.
THE FROG IN THE FLORIDA PHONE BOOTH
This little iridescent hopper spent every night sitting on the pay phone under a large fluorescent light. The light attracted enough gnats, flies, and little moths to create a large drift of insect carcasses every morning on the ground below. By sitting on top of the phone, the frog had only to open his mouth to snag himself a fresh meal. He didn't even have to move his head.
THE WHITE BUFFALO OF WISCONSIN
Miracle was born the spring of 1994, and gained instant fame for being white without being albino. The symbol of peace for many native Americans, the white buffalo inspired thousands of pilgrims to make the journey to Wisconsin. Our friend Paul Bethe told us about Miracle, and we joined him and his family one rainy day to make a pilgrimage ourselves.
FIREFLIES OF ARKANSAS
If, like Mark, you'd never seen a firefly before, the first time you do see one, you are amazed. Even if you have seen them before, the sight of a hundred twinkling stars above the grass on a warm summer evening is still magical.