The Phoenix One Journals Stories from the dawn of RoadTrip America
August 25, 1995
Front Royal, Virginia

KRUZIN' KUDZU KUNTRY
"I've been bathin' for seventeen years," said Amelia as she scrubbed Megan's back. "And my mother was a bather, too." Yes, bathing can be a career if you live in Hot Springs, Arkansas. Ernie Lemmons, who bathed Mark, has been in the profession for nearly half a century. Buckstaff Baths on Bathhouse Row in Hot Springs National Park have been operating in grand style since 1912. We opted for "the package," which took three hours and included a mineral bath, a steam treatment, hot packs and Swedish massage. The fixtures and decor at Buckstaff date from the "Golden Age of Bathing," and it is easy to slip back to the twenties as you soak under stained glass skylights and dress in mahogany paneled changing rooms. At $24.95, "the package" was a steal.
We viewed an exhibit about Bill Clinton, who graduated from Hot Springs High in 1964, and drove through Hot Springs National Park, which includes the bathing establishments on Bathhouse Row as well as the hillside source of all the hot water that gives the city its name and fame.
Although we could easily have stayed and enjoyed several more "packages" at Buckstaff Baths, we hit the road in a southerly direction. Lakes are the glory of Arkansas, and we enjoyed two, Lake Catherine near Hot Springs and Lake Chicot on the Mississippi. A heat wave engulfed us with humid stillness as we drove past rice and soybean fields and again headed north.
After a brief sojourn in Little Rock, where Marvin received one of his cutest haircuts so far from the Thompson Family, we headed north and discovered more beautiful lakes and Mountain View, Arkansas. Ozark Folk Center State Park was founded here to preserve the music and crafts of the region, and we heard more fiddlin', pickin', and strummin', and singin' in two days than most people hear their whole lives. Every summer evening, musicians by the dozen gather in Mountain View's town square and play far into the night. Local craftspeople produce musical instruments, brooms, and wood carvings. We especially enjoyed David & Becki Dalstedt's ceramic designs.
Crowley's Ridge State Park has a different claim to fame: big hungry mosquitoes. An annual mosquito festival is held here. Events include cooking contests, and the rangers said that mosquito pizza usually wins. Yes. They really eat them.
Heading through the boot heel of Missouri and a bit of southern Kentucky, we stayed overnight at Paris Landing, the gateway to the area known as the Land Between the Lakes. Bordered by Kentucky Lake on the west and Lake Barkley on the east, this lush peninsula is a great place to hike, fish and watch for birds and animals.
In Nashville, we enjoyed a behind-the-scenes tour of the Grand Old Opry led by Bill, who grew up in Grinder's Switch and had Minnie Pearl for a baby sitter. We went downtown for a Bluegrass concert at the former Opry house, Ryman Auditorium.
Two prodigious rainstorms put the Phoenix's water repelling powers to the test. It's no mystery that everything is so lush and green in Tennessee. While we were drying out, Robert Scott stopped by. We'd met him near Glacier National Park last August and now, exactly one year later, our paths had crossed again.
South of Nashville in Lynchburg is a popular tour bus stop, the Jack Daniel's Distillery. This establishment has been turning out hooch since the early 1800's and still has the feel of a backwoods moonshine operation, albeit a big one. Oddly, it's located in a "dry" county, "And that's why we can't give you any samples," said our guide.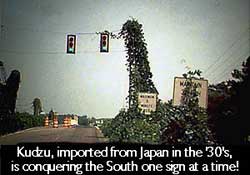 We zigged our way south to Huntsville, Alabama, to allow time for some needed maintenance on the vehicle. Jason, Don, Todie, James, Larry, Harry, Larry, Richard and Norma united to solve every problem we presented them with. A young man in a video shop asked if we were related to the local Sedenquist family. So far, only our answering machines have connected.
A highlight of our month was our visit with Randy , Ruthanne, Bryce and Scott Perkins at their farm in Flint Springs, Tennessee. Randy's tomatoes are unparalleled, and he sent us on our way with two of the sweetest watermelons we've ever tasted. He's also growing potatoes, peppers and corn at the moment, and he has plans for other crops. We enjoyed two blissful, bucolic days at Flint Springs, and enjoyed meeting Randy's parents, Chuck and Ann Perkins, who were visiting from Colorado. Marvin enjoyed roaming the countryside with Bo, the Perkins' Doberman, but was most fascinated with the two little resident goats.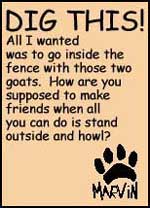 In Knoxville, Tennessee, we stopped for lunch at an establishment we'd heard about for years, the Regas Restaurant. Founded by our friend George Regas' father and uncle, the restaurant has become a landmark in downtown Knoxville, and we received a warm welcome from George's brother, Bill Regas, and enjoyed a great meal. Warning! One strawberry shortcake is enough for three people!
From Knoxville, we drove through the tourist meccas of Pigeon Forge (home of Dollywood) and Gaitlinburg, to Great Smokies National Park. Joining the Blue Ridge Parkway, we wound through the Appalachians through tunnels, fog and rhododendron forests to Spruce Pine, North Carolina. Cool weather at last!
We stayed at Bear Den, where Lauren Lancaster and Suzi Frye told us about Grayson Highlands State Park in Virginia. We made a point of staying there, hoping to see the wild ponies that graze in the high pastures. The ponies, alas, eluded us, but in Charlottesville, we got to see an industrious beaver feed his family. On the road we met Scott Melton & Danny Frost who encouraged us to come back next year for the international fiddlin' contest in Galax.
After a pilgrimage to Monticello where we marveled at Thomas Jefferson's ingenuity, we continued our northward trajectory through the pine and hardwood forests of Shenandoah National Park. Birds, deer and racoons were plentiful, and wildflowers lined both sides of the road.
Some more friends who've joined us on our way are John Minerich, Mark Mathis & David Robertson, Richard & Jerilyn Nicholson, Theresa & Leah Campbell, Stan Maack, Opal Hammett, Lucille Cobb, Michael & Joan Bell, and the Crew at the Charlottesville KOA, home of that diligent beaver. Thanks for your generous gifts of postage this month. It really helps!