The Phoenix One Journals Stories from the dawn of RoadTrip America
Nimrod Lake, Arkansas
July 26, 1995
AT HOME IN THE HEARTLAND
Bidding farewell to our friend Miriam Pederson in Flagstaff at the end of June, we made use of I-40 to get to Holbrook, Arizona. As we left town, we passed Terry & Brad Thode who last crossed our path when they rescued the broken Phoenix near Arco, Idaho, in October.
Holbrook is the watering hole for people who want to visit Petrified Forest National Park. It has one of the few remaining tepee motels in America, each one with an air conditioner hanging out one side.
At the entrance to Petrified Forest, we had to sign a pledge that we wouldn't take anything away with us when we left. The stone trees are slowly being carted away, chunk by chunk, a process that started a hundred years ago when the first visitors exported petrified wood by the trainload. Go see it before it's all been made into bookends. The Painted Desert is also worth a journey.
Interstate 40 took us to New Mexico next, but we veered off after Gallup. A winding road took us through Smith Lake, Seven Lakes, and Ambrosia Lake, which means you'd think we'd have gotten a view of nine lakes in all, but names can be deceptive. We didn't see even one. Maybe they're there in the winter. Maybe they've been carted away, like the Petrified Forest.
If you've ever driven across the United States by a southerly route, you know how largely Texas figures into the experience. Having enjoyed its greatness on numerous other occasions, we decided to see if we could make it to St. Louis without touching it. We angled north from Tucumcari and drove through the Oklahoma panhandle where the Black Mesa, the state's highest point, is located.
In Dodge City, Kansas, we stayed at the Gunsmoke Campground and checked out Marshall Dillon's stomping ground. We have a hard time getting used to the idea that Kansas is the West, but "West" was a moving target when Dodge City was born. We found out that Kansas City is "West," too, and so is St. Louis. Now we're wondering about Newark.
This is wheat mowing season, and there is nothing quite like meeting a combine convoy on a narrow two-lane road in a driving thunderstorm. After a brief stopover in Wichita, Kansas, where we met Mac McIntyre, we headed north searching for the elusive cellular telephone signal we needed to transmit an article to a publisher. The "X" spot turned out to be in front of a commercial bakery in Hutchinson. The Phoenix doesn't stop anywhere for long without attracting attention, and it was our good fortune that the bakery's manager, Bill Ahlgrim, came out to say hello. He gave us a private tour of the Rainbo bakery, where countless hot dog buns were being prepared in time for the Fourth of July. The machinery was awesome, and the smell overwhelmingly mouth-watering.
In Kingdom City, Missouri, near the charming and historic town of Fulton, we visited with Wayne & Jackie Hollinshed at Crooked Creek, where the trees and stream were lovely, and the number of bugs mind-boggling.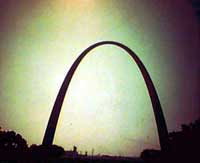 St. Louis had been our destination for the Fourth of July for two reasons. One was that we'd heard the fireworks at the Gateway Arch on the river were terrific, and the other was that the Mensa Annual Gathering, at which we were scheduled to give a talk, began there the next day.
The St. Louis RV Park is conveniently located close to downtown, and we took up residence there for a week. Rick & Joyce Burba were superb hosts, and Marvin was thrilled with the open field across the street where he could run free. We also had a room in the convention hotel.
The fireworks at the Arch, shot from barges on the Mississippi, were the perfect way to celebrate the Fourth. Our friend Paul Bethe joined us.
Our talk at the Mensa gathering went well. With the help of the Chief Concierge, Jeanne Venn, we parked the Phoenix in a loading zone, and played host to thirty or so Mensans who visited it after hearing about our travels and seeing our slides. "Where do you keep your books?" was the most-asked question. Book storage is indeed a challenge for us, and we have gotten very good at recycling reading material as we go. Whenever we get a new book, we give an old one away. We never have more than about ten at a time.
St. Louis is a wonderful city, and the Gateway Arch, which we could see from our hotel room, is magnificent. We had expected a landmark, but were not prepared for a work of art. The light changes constantly on its reflective surface, and its height of over six hundred feet makes it far more impressive than any postcard can show. Downtown St. Louis is full of fabulous architecture including Union Station, which looks more like a castle than a train depot. The old courthouse is beautiful, too. Add good food and jazz to the setting, and you get a great city to visit and enjoy. Vicarious traveling companions who joined us there are Gary Flor, Harold Messler, Simone Van Egeren & Richard Lederer, Dan Gilmore, Ellie Bast, Karyn Pidgeon, Ruth Crowther, LaVena Kay Kidd, Geri Neemidye, Dan Babcock, Lois Sugar, Lee Arhelger, Jon Applegate, Brad Baucom, Roberta Nell, and Elna Tymes.
Springfield, Missouri, was our next stop, and from there we headed to Carthage, a lovely town full of picture-perfect Victorian houses. We visited the Precious Moments chapel. It's a sort of theme park featuring those little ceramic "collectible" children with the tear-drop eyes. The chapel has wall murals depicting Bible stories. All the characters are Precious Moments children.
Another man-made wonder in the area is Bass Pro Outdoor World, which claims to be the world's largest sporting goods store. We have no doubt that it is. It has a lake and waterfalls and live ducks and the largest live bass in captivity. It has hundreds of freeze-dried animals placed in life-like poses in artificial forests. It has a McDonald's and a beauty parlor. All this, and the largest inventory of sporting goods anywhere. It'll fascinate you even if you're a couch potato.
At Kimberling City on the edge of Table Rock Lake, we discovered an Episcopal Church in an unusual store front location. We attended a service Sunday morning and met Mark, Janet & Maxwell Levitzke and many other members of the friendly congregation. They've just bought a new church building and invited us to come back after they move next month.
Branson, Missouri. Five years ago it was just a dot on the map. It's still a dot on the map, but suddenly it's become a household word. It's where you go for country music. There are theaters everywhere you look, and shows all day long. The town claims a population of under 4,000, but it gets over five million visitors every year. Branson's definitely not a small town any more. It's a phenomenon. We were guests of Sharon & Bob Klein at their KOA in the heart of the action. They have created an amazing tree-shaded oasis only a few steps from the hustle of the strip.
After three days and three shows, we moved south to Arkansas. Near Bentonville, we stopped at Beaver Lake and enjoyed dinner with Dale Bush. Dale makes exquisitely beautiful wood kaleidoscopes which can be found in galleries all over the country. e travels a lot, and we were glad to catch him at his home base. The next morning, he gave us a tour of his shop, Big Muddy Woodworks.
It would be easy to develop an addiction to the orange French toast served by Jean Rowe at Aunt Clyde's Cafe in Rogers, where Dale treated us to breakfast the next morning. After stuffing ourselves, we drove through the town of Eureka Springs, a scenic resort town in the Ozarks. A drive down highway 7 took us by Dogpatch, U.S.A., through Booger Hollow and over the Buffalo River.
We're now at Nimrod Lake, where we have been treated to two nights of spectacular lightning storms. Marvin has proven inconveniently adept at picking up hitchhiking ticks. The removal of same is not one of our favorite activities. Tomorrow we're headed for Hot Springs National Park, not too far from Little Rock.
Thank you for the wonderful mail (both e- and snail) and gifts of postage you've sent. A few more folks who joined us on the loopy path of the Phoenix this month include Gerry Garner, Tony Jacoy, Gayle Hackamack, John Russell, and Jim & Marge Laris. We look forward to sending you this journal as we travel. For us, home is not defined by physical location, and it's by writing that we maintain a feeling of community.