The Phoenix One Journals Stories from the dawn of RoadTrip America
Flagstaff, Arizona
June 25, 1995

THE BIG, WILD, WONDERFUL WEST!
Early in June, the Phoenix One headed up Highway 101. Our first stop was Santa Barbara, where we heard about the floods we'd missed and enjoyed the fabulous spring weather that greeted us. Next we sojourned briefly at Avila Hot Springs, where we "took the waters" and received wonderful massages from Elizabeth & John Bates. We also enjoyed a lovely afternoon in the hills above Buellton with Catherine Solange, Lance Atkinson and their new son Axel.
After a balmy drive up Highway One through Big Sur, we landed in Santa Cruz, where Dan (Mark's brother) and Lynette Sedenquist gave us a royal welcome. We enjoyed the weekend with them and their children Nicky, Michelle and Josh. Highlights were a spectacular chocolate dessert that Lynette made, a trip to a begonia farm and an afternoon picking strawberries in Watsonville.
In the Bay Area, we were fortunate to see David Kirby in San Mateo, and Dennis Jennings and Juanita Davalos in Alameda. We also visited Carter Settle, who was Mark's journalism teacher in high school, in Mount Diablo. Dennis and Juanita told us about Nevada City, a town in the gold country, so we headed there next. It turned out to be every bit as picturesque and charming as they said.
As we continued driving through the Sierras, we were struck with the amount of water in all the rivers and streams. The Yuba was a high octane raging torrent, and waterways labeled "creeks" looked navigable. After a night near Lake Tahoe, we made our way to Virginia City, Nevada. We had enjoyed this still-gritty mining town before, and we weren't disappointed this time. The weather kept surprising us with everything from thunderstorms to gale force winds, and one morning the slopes were even covered with snow.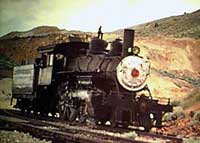 One of the best things about Virginia City is the RV Park, owned and operated by Pat and Peggy Whitten. Built on the tailings of a silver mine, it has a spectacular view of the old cemetery and the canyons below the town. Pat and Peggy, now assisted by their daughter Tobi, are wonderful hosts. They also run the best market in town and the only video concession and laundromat! We could easily have stayed a month or two, but we pried ourselves away after three days. If you're in the Reno/Lake Tahoe area, make the trip to Virginia City and ride the old steam train to Gold Hill. If you're as lucky as we were, you'll even see wild horses. Also, ask about Warren & Zarita Zook's soon-to-open dinner theater.
From Virginia City, we took Highway 50, "the loneliest road in America" across Nevada. We actually ran into a fair amount of traffic, including a Harley-Davidson convention. Ely, Nevada, also boasts a wonderful old steam train, lovingly maintained by volunteers. Ely is a great old town and the gateway to the Great Basin. We'd never expected to find such serious mountains in Nevada, but Wheeler Peak tops 13,000 feet, and it's not the only tall one in the area. Great Basin National Park is another one of those well-kept secrets-- go there before everybody finds out just how beautiful it is. We camped amid pines and aspens right next to a roaring stream. Snowy peaks towered overhead and wildflowers covered the lower slopes.
Another natural attraction in the area is Lehman Caves. We toured them with a ranger and then headed out to see the Ward charcoal ovens. These six large bee-hive-shaped stone structures look like Mycenean tombs, far nobler than their humble use would suggest. We wonder what future archaeologists will make of them. From Great Basin, we turned south, heading for Moapa and a hot spring we'd read about. On the way, we paused at Cathedral Gorge, where wind and water have eroded soft limestone into a fairy city. If you're ever on Highway 93 near Pioche, take a walk through the amazing formations. Arriving in Moapa, we found the place where a hot springs resort had been, but fire had destroyed the buildings, leaving only blackened palm trees and scorched ground. Sadly, we headed towards Las Vegas.
In Las Vegas, we stayed at a brand new RV park operated by a brand new casino. Inside its huge atrium (nothing in Las Vegas is of normal size) we ate enormous steaks and watched an amazing laser show complete with dancing waters and an animated timber wolf on a fake mountain. Who needs national parks?
Heading towards Arizona, we crossed Hoover Dam, a treat both of us had heretofore missed. What a magnificent and improbable structure! And the day after we were there, yet another remarkable and unlikely edifice opened, the new visitors' center. We saw it from the outside, and it's beautiful. We read that it cost $132 million to build it, $109 million more than the projected $23 million. If you can't make a building look good for 132 million dollars...
On our way to Flagstaff, we stayed in Prescott and Sedona, visiting the old copper mining town of Jerome and the Tuzigoot Indian citadel on the way. The red rock country really is as magnificent as all the paintings and photographs suggest. We burned quite a bit of film and stayed on the banks of Oak Creek, right at the foot of some majestic red spires.
The next morning, we climbed down to Slide Rock, where Oak Creek provides one of the best natural swimming holes anywhere. Then it was on to Flagstaff, where we visited Miriam Pederson, Carl Pederson and Dale Hayes at Rainbow Ranch. Mark had last seen Miriam in 1981, when he took a rafting trip in the Grand Canyon. We were also lucky enough to see Tom Moody, another friend from Mark's white water days.
Marvin had a smashing month. He kicked off summer with wonderful grooming care from Betsy while the Phoenix underwent some quick repairs under the watchful eye of Tom Emge in Placentia, CA. He showed off his cool summer crewcut when he visited his spaniel buddy Penny in Santa Cruz. He nearly managed to gain access to a skunk den while enjoying an unfettered frolic at the Rainbow Ranch and playing with Laszi, Miriam's golden retriever. Marvin grudgingly tolerates our periods of 4-wheeling, but he makes it clear that he prefers a good, dry, flat road free of all cattle guards.
Flagstaff is a lovely place to be in late June, with blue skies all day, and a great view of the Milky Way at night. We're heading east now, with St. Louis, Missouri, our goal for the Fourth of July.