The Phoenix One Journals Stories from the dawn of RoadTrip America
Santa Barbara, California
June 6, 1995
CALIFORNIA DREAMIN'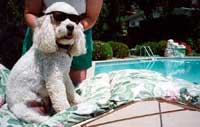 After April's coast-to-coast speed run, we were glad to give the Phoenix One a breather and travel only a few miles in May. Before I launch into May's experiences, however, I want to mention the lovely breakfast that Byron Beeler treated Meg and me to when we visited him in Bradenton, Florida, in April.
Five surprise visitors planned to come to the Phoenix party in California on April 26. Unavoidable circumstances delayed their arrival for a week, but they deserve the grand prize for traveling the farthest-- all the way from Sydney, Australia! We spent two wonderful days with Rob, Pam, Chelsea & Cameron Buesnel and Joyce Curran. Pam presented us with a wooden wreath she'd hand painted with five Australian wildflowers I'd seen on my trip to Australia a few years ago. This beautiful work of art is now hanging, with a little help from a strip of Velcro, on the wall of our guest bedroom/office in the Phoenix One. We also enjoyed seeing Ed Hakim and Jim Thomson while we were in Los Angeles.
We needed to get some writing done, and Sam's Family Spa in Desert Hot Springs offered the perfect venue. Not only does it have a huge warm swimming pool, four large hot pools, a sauna, and a charming coffee shop, it's got a full complement of peacocks and palm trees besides. For a couple of weeks we soaked and worked and soaked some more. The result? Pruny skin and 20,000 words. Thanks to the staff for providing such lovely surroundings!
The three Ms parted company for a week while Megan flew to San Jose and rode Amtrak's Coast Starlight down the coast to San Diego with David Kirby. It's a fabulous journey, and the double-decker cars with sightseeing lounges offer wonderful views of the valleys around Salinas and the coast south of San Luis Obispo. In San Diego, they attended a Mensa gathering where Megan gave a talk and slide show about life on the road.
Thanks to the generosity of my parents, Margaret & Charlie Sedenquist, we now have a state-of-the-art slide projector, and we're eager to put it to use. If you know of a group or club that would like to hear about our adventures, please let us know. With enough notice, the Phoenix One traveling show is ready to perform just about anywhere!
Marvin and I met Charlie at the Lake Morena Regional Park in southern San Diego county. Expecting to find barren desert, I was surprised to discover one of the largest reservoirs in California surrounded by pine and fir trees. Charlie is a rockhound by avocation, and the border region is a good place to hunt for tourmaline, garnets, topaz and gold. We set up our base of operations at De Anza Springs Campground in Jacumba, California, where Bill, Jean and Dick maintain a remarkable preserve a few miles north of Mexico.
While we didn't find any gem-quality stones, the countryside was bright with desert wildflowers. Rugged jeep trails gave Charlie the opportunity to do some four wheelin,' and both of us ended up questioning our relative sanity. Luckily, it was his truck that got banged around, not the Phoenix! If you are near San Diego, a day trip to the Jacumba Springs Spa is well worth a visit. When you get there, ask Mona Bachmeier for a tour.
After retrieving Megan in San Diego, we made our annual pilgrimage to Bert Merrill's Temecula Pizza Company. This makes the fifth time in five years that we have driven 100 miles or so out of our way to eat the succulent stromboli they're famous for. Remember: I-15 + highway 79 = true ambrosia. Then we returned to Pasadena for an evening of good conversation and food at the home of Paul, Kathy, Melissa & Michael Copeland. The next morning we joined Rich Kapnick in North Hollywood as he produced a video of us in a talk show format. Quite a learning experience to be in such a production. Our thanks go to Rick, Sonny and Christina at Phase-L Productions for their assistance.
Lots of friends have joined us on the continuing adventures of the Phoenix One this month: Terry & Nancy Brian, Mike Ball, Marvin & Judith Chazin, Michael, Jeff, Jeannie and the staff at Flag's Photo, Mike, Linda, Aubrie & Merissa Gutierrez, Scott & Cindy Jenkins, Dick Green, Gordon Larsen, Randy & Ruthanne Perkins, Nels & Linda Roselund, Virginia & Bennett Quillen II, Dave & Suzanne Tjosaas, Karen & Steve Freeburg, Chuck Samdes, Russ & Cookie Bakke, Michael & Liberty Russell, Tom Herbertson, Alan Miller & Lorraine Page, Celinda Puelma, Chip & Nancy Stone, Ken Taylor, Brian Anderson, Es Johnson, Dr. & Mrs. Charles B. Warr, and Ray & Linda McBride. Thank you, Thank you for the gifts of postage we received this month! They really help! On we go... Hope to see you soon!
Mark
THIS JUST IN BY PONY EXPRESS!
Yes, the Phoenix One gets snail mail, forwarded faithfully by the nice folks at The Postmaster in Pasadena. Thanks to Ray, Beth, Evan & Joey, we get every last bill! Fortunately, sometimes we get other kinds of mail, too, like this missive from Charlie Brister, president of Chasley, Inc., the company that keeps you smiling with amazing juggling toys shaped like everything from penguins to planets.
TOP TEN REASONS MARK & MEGAN ARE GOING FOR A SECOND YEAR ON THE ROAD

10. They just love Denny's.

9. Haven't used every auto shop in America yet.

8. There's still one national park they haven't explored.

7. Don't want to put refinery workers out of business.

6. Still haven't finished telling each other their life stories.

5. Marvin's really the one in charge.

4. That little 'Phoenix One Travels' map isn't completely black yet.

3. "Damn it, Megan... We're not going home until I can drive this thing blindfolded using only the Global Positioning Satellite Receiver to guide me."

2. Still getting up the nerve to pick up their first hitchhiker.

And the number one reason Mark and Megan are going for a second year on the road... drum roll, please...