The Phoenix One Journals Stories from the dawn of RoadTrip America
Desert Hot Springs, California
May 9, 1995

COAST TO COAST & ON TO YEAR 2
You really can't go to Orlando without getting at least a little Disnified. We selected Epcot Center out of the menu of possibilities at the Disney universe, and especially enjoyed a 3-D movie in which a dog sneezes and the audience feels it. We stayed at Yogi Bear's Jellystone Park Campground, where Mark and Marvin enjoyed an encounter with a pygmy rattlesnake. Its one chance at a strike left them surprised and the snake with a mouthful of air. Far more thrilling than anything Mickey or Yogi could provide.
In West Palm Beach, we stayed next door to Lion Country Safari and enjoyed a wonderful Thai dinner with Bill MacGowan, Mark's former choirmaster. Bill's vast knowledge of wonderful places to visit made us eager to explore Florida.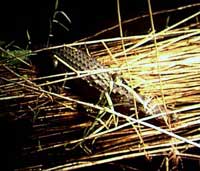 Then it was on to the Everglades, where we were immediately enthralled with gators, gators everywhere. Not only were there alligators all around, but there were thousands of big birds like pelicans, herons and anhingas. Add to that sawgrass marshes, cypress domes, hardwood hammocks and mangrove swamps, and you begin to realize that the Glades really are something special.
After we'd driven everywhere you can in a place that's largely water, we took a boat tour with Captain Bill Campbell, a longtime resident of Flamingo marina and authority on crocodiles and alligators. We now know the difference between the two and understand the importance of standing far enough away from both. They only look lethargic. When they want to, they can run fast and jump pretty high.
Captain Bill found some playful dolphins for us, pointed out osprey nests, and regaled us with hurricane tales. We floated through the mangroves, enchanted with the beauty of the marshlands. Now we want to go back and canoe the 99-mile Wilderness Waterway between Flamingo and Everglades City. It takes seven days, and you get to camp on wooden platforms above the alligators and snakes.
From the Glades we headed even farther south to the Keys. I'd wanted to go to Key West ever since I'd noticed as a kid that it looked like the road there went across water. Highway One is indeed spectacular, especially the seven-mile bridge.
Key West is the bustling tourist town (especially at Spring Break time) that you'd imagine, but its lovely old houses, lush tropical gardens, and historic districts are wonderful to explore at the leisurely pace the climate suggests. We watched the sun set at the marina, and all seemed very benign until Mark noticed a large black dorsal fin circling near the dock. Yep, it was a shark, so close we could've reached out and touched it.
Realizing that we wanted to be in California before the end of the month, we reluctantly retraced our path back up Highway One. On the mainland we headed up the Gulf coast. By extreme good fortune, we crossed paths in Naples with our friends Susan Howson and Craig Smith. We met them in Alaska, visited them in Toronto, and now, here we were enjoying pizza and hot tubbing with them in Florida! They must be jet-setters or something.
More alligators were waiting for us in Crystal River and Wakulla Springs, where we went on a marvelous jungle cruise and saw a large cooter, huge numbers of birds, and lots of old cypress knees.
From Pensacola, Florida, we jumped on Interstate 10 and began the westward haul. After pauses at Baton Rouge and San Antonio, we made it to El Paso, where we had a flat tire in a church parking lot on Easter. Our spare got us to Las Cruces, where Matt Rick at Discount Tire had one tire the right size and cheerfully installed it. We continued west to Apache Junction, Arizona.
We arrived in Pasadena on April 20, almost exactly a year after we first set out on our journey. Marvin was overjoyed to see Chrissy, his poodle cousin-in-law, and we were happy to see our families after a long hiatus.
It was wonderful to see so many friends at Robin's Restaurant on April 26. The two weeks we spent in Pasadena flew by, and here we are, embarking on year two of our ongoing adventure.