The Phoenix One Journals Stories from the dawn of RoadTrip America
Apalichicola, Florida
March 25, 1995

'WAY, 'WAY DOWN SOUTH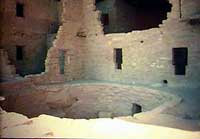 Before launching into March's itinerary, I've got to backtrack to Colorado. Last month we visited so many amazing places that somehow we forgot to mention one of the most remarkable of all, Mesa Verde National Park. Definitely worth the journey, the Anasazi cliff dwellings were especially beautiful capped with snow.
March dawned on us in Midland, Texas, where my aunt and uncle, Bob and Lucile Boykin, live. We enjoyed a pleasant couple of days with them and marveled at the abrupt changes of weather characteristic of the Permian Basin. We arrived in summer, departed in bitter cold, and, much to our chagrin, had to navigate icy roads one more time.
Our next pause was in Austin, where we enjoyed Cajun food and live jazz with my cousin, Clark Boykin. We spent a day in the library at the University of Texas and enjoyed the good coffee and bookstores that college towns provide. We also attended St. James Church with Clark. The vicar, Bill Miller, gave a wonderful beginning-of-Lent sermon, and we enjoyed the multi-cultural ambience of the congregation. If you visit Austin and want a warm welcome, attend a service at St. James!
We couldn't leave Austin without experiencing a good, old-fashioned heavy-duty thunder-and-lightning storm. Now we know what meteorologists mean when they say "severe weather." Beginning around 2 a.m., we rocked and rolled for an hour or so, and Marvin had to come sleep with us. In the morning, the Phoenix was none the worse for wear and considerably cleaner.
Heading northeast on Highway 79, we traversed the eastern half of Texas, enjoying the rolling hills and pastoral views. It's calf, kid, and lamb season, and the wild flowers are beginning to appear.
In Columbus, Mississippi, we made the delightful discovery that when the Army Corps of Engineers builds a campground, they do it right. We stayed at one on the Tombigbee River, which had flooded the day before, but had receded enough that the roads were open. This meant we had an enormous and beautiful campground right on the river entirely to ourselves. Well, maybe not entirely. We went for a stroll after dark, and there was something out there in the cypress trees, splashing in the water and acting big. With visions of Deliverance and Swamp Thing in our heads, we crept back to the Phoenix. In the morning, we took the same walk and saw nothing but ducks.
We spent the weekend in Birmingham at a Mensa Regional Gathering. I enjoy a dose of word games and interesting speakers every once in a while, and was happy to see some of my friends from California, including Dave Felt.
Our stay in Birmingham lasted somewhat longer than we expected, as Mark will explain. When we finally extricated ourselves from the clutches of the Ford Truck dealer, we drove to Huntsville. We ended up staying there nearly a week, partly because of more necessary Phoenix improvements, but also because we were entranced with the U.S. Space and Rocket Center.
The Rocket Center was the brainchild of Werhner von Braun back in the sixties. His idea was to create a museum and camp to generate interest in space science. The place is huge now, and still growing. We toured Rocket Park, where a mockup of the Space Shuttle looms over dozens of other rockets, missiles and space vehicles, and rode a bus out to Marshall Space Flight Center, where Boeing is working on the American components of Space Station Alpha. Everywhere we looked were Space Cadets, and now I want to go back and be one myself. At Space Camp (which is not just for kids) you can use all the simulators and equipment astronauts use when they're being trained. They even have a "Top Gun" program where you go up in a fighter jet, but I think I'm too chicken for that.
Mark's appetite for flying machines was whetted, so we stopped at Fort Rucker, which has the world's largest collection of helicopters. Right now we're in the Florida panhandle, at the charming little seaside town of Apalachicola. We're heading south, with Key West our goal before we head back to California in April.
NOTES FROM UNDER THE HOOD
A couple of days ago, Beverly Bowling commented about the significant number of times that the Phoenix has required visits to the mechanics shop on this journey. Megan has suggested, only partly in jest, that I write a travel guide called "Great American Truck Repair Shops," including a comfort rating of their waiting areas. It's true that the Phoenix has spent some significant time with a number of skilled professionals in the last few days.
In Odessa, Texas, we had a new fuel pump installed in the forward tank. As virtually nothing is standard in our vehicle, Jack, Nelda & Bruce of D & J Automotive performed some difficult tinkering to get it in place. Unfortunately, they didn't replace a small plastic clip which caused the fuel line to pull loose and spray gasoline on the exhaust pipe. Luckily, this occurred as we pulled into a campground in McCalla, Alabama. Powell Thompson, the proprietor, came to our rescue and quickly summoned a mechanic who makes house calls in an ambulance. It's been retrofitted with truck-fixing tools, and in a few minutes he'd made the necessary repairs.
We dropped in for what we thought would be a four-hour maintenance stop at Truck City Ford in Birmingham, Alabama. Actually, Glen and a number of other mechanics logged eighteen hours over a two day period while replacing two cracked rotors and a fouled rear brake shoe. In the process, a number of other problems were discovered. We passed the time writing and reading, and staff members Jim, Jewel, Ron and Jeff were most hospitable. Mark Stacey whetted our appetites for exploring the caves of Alabama.
At last we were on our way to Huntsville, where Stefan at Madison Travel Trailers in Huntsville established a new record for the most repairs made in the shortest time, replacing a door lock, fixing the converter, installing a gasket, making an electrical repair, and teaching us how to program our television in less than two hours. A close second would be the McNeese Glass Company Crew who replaced our windshield the next morning. The left side had never been properly secured and only the chrome had been keeping it from jumping out. No more wiggles and leaks now!
Marvin withstood all the long waits with remarkable patience, but stayed up all night since he had to be in his bed all day. I am sure he, like Megan, wondered if we would ever get out of garages and underway again. When we finally did, he greeted some Muskovy ducks in Ozark, Alabama, as long-lost friends. We can hardly wait to see what happens when he meets his first alligator.
Two sets of road angels came to our rescue this month. Not once but twice, I managed to lock our four (4!) sets of keys inside the coach, much to the chagrin of Megan & Marvin, especially the second time. Bruce Stewart from Junction, Texas and the Cheaha State Park Supt. of Delta, Alabama, have our heartfelt appreciation! By the way, the hill country of eastern Alabama is stunning and surprisingly rugged. Red Alabama mud is second only to New Mexico clay in color and texture. It needs to be experienced to be appreciated.
New friends, thanks for joining the Phoenix as we break into another year on the road: Robin Cannon, Hal & Kay Remmler, Harlin Perky, Gene Bryan, our host tonight on the Gulf, James Nash, Michael Markowski, Sharon Pidgeon, Doreen Spitzer, Chris & Sue Slebos, Bill Webster, Warren Shaw, and Jo Ann & Norm Simmons. Special greetings to Carol & Gene Laumann, Colleen Clark and Virginia Kimball.