The Phoenix One Journals Stories from the dawn of RoadTrip America
Grand Junction, Colorado
January 27, 1995

ROCKY MOUNTAIN HIGHS...
Watching government in action, enjoying a first-run movie in a "cool" old theatre, getting in hot water in more ways than one, fending off ornery cows and making new friends are highlights of the Phoenix experience for me this month. Richard Sack has rebuilt and modernized the Mesa Theatre in Douglas, Wyoming, that originally opened in 1917. It is truly a delight to sit in comfortable and clean seats while paying only $3.50 for first-run movies in a beautifully restored vintage cinema. If you're in the neighborhood, don't miss it!
While enjoying the ambience of my Torrington, Wyoming, cousins' house, Marvin and I racked up another of life's' special moments. Marvin got to "touch noses" with a gentle cow when he strolled into a corral one morning. Perhaps he was a ranch dog in a previous life -- he certainly seems to enjoy seeing (and smelling) cattle whenever the opportunity arises.
Later in the day, while attempting to assist Ross Newman with the doctoring of a couple of his cows, I learned first hand, that not all members of the bovine clan are docile or well-mannered. There was a particular black-faced "grand dame" suffering from a hip problem and a seriously bad attitude who declared open season on this California city boy. She charged me three times, once so ferociously that I had to vault the corral fence head first to avoid being stomped. While she also showed her disdain for Ross by overt displays of aggression, I seemed to arouse an especially keen level of irritation in her. At one point when I was standing behind a gate, she charged across the corral and convinced me that she was going to jump the fence to get to me. I sorta backed outta there on the double!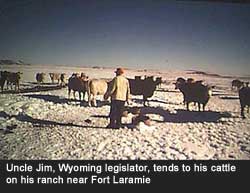 Cheyenne was our next port of call. My uncle Jim Hageman is a gifted and charismatic Wyoming State Legislator. It was a special pleasure to observe him and his peers performing their governmental roles. Watching the floor of the legislature from the galley and observing committee sessions was so interesting that I stayed a day longer than I planned. I especially enjoyed discussing the kinder and gentler nature of Newt Gingrich with two conservative Republican legislators, Robert Betts and Rick Badgett.
Roger Pulse came to the Phoenix's aid while we stayed at a campground in Loveland, Colorado. Despite a variety of preventive measures, both discharge lines for the holding tanks were frozen, and we owe a big THANKS for Roger's assistance in the eventual resolution of that yucky problem.
The 3 Ms were together again when Megan joined us in Denver. We were able to spend a day or so exploring the metropolitan area. Thanks to Phil and Maggie Achter's suggestion, we stayed at a beautiful RV resort in Breckenridge, Colorado. Mineral hot springs, mud baths, a private Jacuzzi under the stars, and an illuminating conversation with Karen Hammon at Idaho Springs combined to make a great kick-off to our exploration of "hot spots" in the Colorado Rockies.
Today, we have arrived in Grand Junction to visit with Kathy, Justin and Stewart Hall. Kathy, my aunt, is a recently elected county commissioner, and we are looking forward to watching her perform in her new official role. A special howdy to some more of our friends on this journey: Dale Bush, Bernice Funk, Margaret Stevens, Imogene & Henry Ewan, Paul Ehernberger, Sara Burgess & Charles Ijadi, Art & Angie Mattson, Stratton Lindenmeyer, Barbara & Jerry Dilts, Thomas Kier, and Marguerite Spracklen. Marvin extends a very special Thank You for extra special care to Dardalee, Byron, Brenda and Jan at the Cross Animal Hospital in Douglas, Wyoming.
The 3 Ms are on the move, and wherever your life's adventures take you, we hope your days and nights are full of joy and good friends.
URBAN DELIGHTS, FREEZING IN STYLE, CYBER-HIKING...
Montreal is a city of elegance and refinement and awfully good food. François Souchay, my excellent host and guide, had promised me the "Three-Dollar Tour" when I arrived. This turned out to be a three-week adventure-- what a deal! In addition to enjoying the beautiful architecture and views, we ate our way through the city. This meant sampling French coffee, Belgian French fries, Ethiopian wot, Swiss fondue, Greek tzatziki, Thai soup, Lebanese doners, Montreal smoked meat, and American (Ben and Jerry's) ice cream. Thank you, François! It was unbelievable!
I flew to Denver where Mark met me with roses and champagne. We toasted the next phase of the Phoenix's journey by saying, "Let's head south!" It's possible to live in a motor home in sub-zero temperatures, but it takes ingenuity, perseverance, and a lot of propane. Our electric blanket keeps the water pump warm at night. My sister Libby Brennesholtz created window insulators that fend off the cold in our bed. Margaret Meyer gave us an organic (rice-filled) heating pad we use to block cold air around our power cord, and all our tanks are treated with anti-freeze. We leave all our cabinet doors open at night to keep the contents from freezing. I'd think we're crazy if I didn't have a spectacular view of the Rockies right in front of me as I write this.
I've been enjoying an unexpected and ongoing adventure in the computer realm. I left Pasadena last March with an amazing little laptop, a credit-card modem, a printer smaller than a loaf of bread, and a portable CD reader. Assisted by computer wizard Wes Ferrari, I learned how to make it all work. Little did I know that I was at the beginning of an on-going intimate relationship with the cyber-universe. I have found that I really can ride the info super highway while I'm on the road even though in many ways, it's still a cart track through the mud. So far, I've been able to meet every writing deadline using electronic equipment. I'm still amazed when I succeed in sending e-mail while standing at an outdoor phone booth under the stars, an acoustic coupler Velcro'd onto the dangling handset. When "Your mail has been sent" glows from my little monitor, it seems like nothing less than real magic.
The Phoenix One is now heading for warmer climes. Our plans, always tentative, include heading to New Mexico, Texas, Louisiana, and, ultimately, Key West, Florida. It's good to have destinations in mind, but more and more we're realizing that getting there is way more than half the fun. Who knows? Maybe it's all the fun. We hope you like getting there with us.