The Phoenix One Journals Stories from the dawn of RoadTrip America
OCTOBER 27, 1993: A DAY TO REMEMBER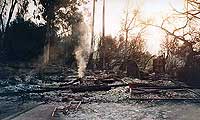 As most of you know, October 27, 1993, was the day the Altadena firestorm consumed our house along with hundreds more in the hills above Pasadena. We will indeed remember for a long, long time. In addition to the blaze itself, we will also remember the love and support of our friends and families. It's at times like these that it's easy to see that the really important things can't burn.
Still, all our stuff did burn. Not long after the fire I wrote this entry in my journal. "At first I wondered why I, who consider myself to be not too materialistic, could be so daunted by losing 'just stuff.' But stuff is what our whole world is made of. We take it for granted, and we think of it as 'real' and 'permanent.' We need it to lean on, to be there for us. So when it's gone, we're like the one-legged man whose crutch disappears. Only stuff. Only stuff indeed!"
So we mourned our stuff. We grieved its sudden metamorphosis into ash and ember. We appreciated the understanding of our friends as we walked around in a daze. The story that kept popping into my mind was the one from the Bible about Lot's wife. When she looked back at Sodom and Gomorrah burning, she turned into a pillar of salt. "Don't look back," I told myself, "or you'll turn into salt, too. Look ahead, to what the future holds."
In time, we were able to look ahead more easily. Instead of Lot's wife, we could turn to a more optimistic myth, the one about the Phoenix. Yes, it's time for our new life to rise from the ash, and now, four months after our lives took an unexpected turn, we're beginning a new adventure.
MARCH 27, 1994: A DAY TO CELEBRATE!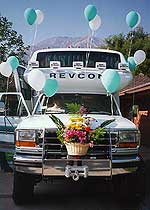 While it is true that the birth date of the Phoenix One was the 27th of October when the idea to transform our "loss" into the manifestation of a new reality was born, it is the 27th of March that will mark the commencement of the mission of the Phoenix.
We will boldly go where only the plucky and lucky dare go. We will seek new vistas, new ideas, new business viewpoints and techniques and explore the challenges that this journey will bring to us. One of the tenets of the Phoenix One Mission is to bring fun and good times to the people we know and meet along the way. To that end, we would like to invite you to an OPEN HOUSE TO LAUNCH THE PHOENIX ONE!