Restaurants of the Road
More Eateries

Quaker Steak & Lube
Sharon, Pennsylvania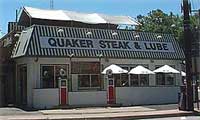 We went to Quaker State and Lube on the recommendation of Jennifer Evans, who also told us about the world's biggest shoe store and the giant chocolate turtle on display in the world's largest candy store. All these wonders reside in Sharon, Pennsylvania, a place that is worth a major detour if you ever get close.
Quaker Steak and Lube is reason enough to make the trip to Sharon. Housed in an old gas station, some other vintage buildings and a train car, the Lube claims the best wings in the whole country. We arrived in time for lunch.
Even the parking lot is fascinating at this establishment. We stopped near the Blues' Brothers' cruiser and a sci-fi limousine used by Mick Jagger in "Freejack."
Entering the restaurant through a door with a gas pump nozzle for a handle, we immediately noticed a car suspended from the ceiling over the bar, upside down. And that's only the beginning. In the 'Vette Room, you can dine under a 1977 red Corvette, and in the Thunder Alley Room, the race car driven by Gary Bettenhausen in the 1982 Indianapolis 500 is hanging on one wall.
We sat down at a table in the Handle Bar room, which is festooned with motorcycles including a one-of-a-kind 1915 Austro Omega, and a 1917 Harley.
The Lube offers 14 different kinds of wings, and the menu has a wing-o-meter to help you select according to heat. At the top of the thermometer are Atomic Wings. They're so hot you're supposed to sign a release form before you can order them. We ordered a sampler of Atomics and a basket of Louisiana Lickers, which have won two first prizes at wing competitions.
Yes, the Atomic Wings are hot. They're fired with habañero peppers, which are more than twice as hot as jalapeños. I ate one. Mark ate four. The people at the next table watched with their mouths open.
Quaker Steak and Lube is the ultimate hangout, and we wished we could have stayed longer. Until we return, we'll have to satisfy ourselves with an occasional virtual visit. The Lube's home page can be accessed at www.lubewings.com.
Quaker Steak & Lube
Sharon, Pennsylvania
(412) 981-WING
(800) HOT-WING
Open 365 days a year!