Biggest Chocolate, Most Shoes
SHARON, PENNSYLVANIA—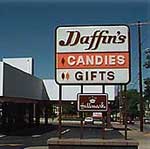 Daffin's Candies & Gifts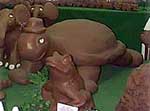 One big turtle...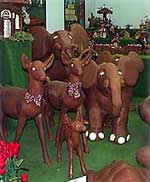 A ton of chocolate on the hoof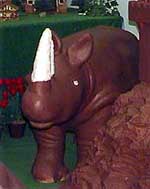 Protected species: the
rare cocoa rhino
This small Pennsylvania town claims not only the "best wings in the U.S.A," but also "the world's largest candy store" and the "world's largest shoe store." Are they really the biggest and best? All we can say is, Daffin's has a quarter-ton chocoate rhino on display, Reyer's has the biggest pair of gold spike heels we've ever seen, and Quaker Steak and Lube's wings are definitely delicious. Whether Sharon genuinely deserves her superlatives is not for us to say. We just went there, had a look, and remain impressed by a small town's efforts to achieve global recognition.
Ordinary from the outside, on the inside Daffin's is a candy-lover's dream come true. Miles of glass cases offer more than enough to satisfy the most extreme craving for jelly beans, salt water taffy, gum drops, licorice, and every other kind of candy you can name, even old-fashioned ones, like horehound.
The best part of the store is all the way at the back. That's where the "Chocolate Kingdom" is, a room full of remarkable sculptures that will leave you permanently dissatisfied with garden variety Easter bunnies.
We'd heard about Daffin's huge chocolate turtle before we arrived, and there it was, all 400 mouth-watering pounds. Nearby was a menagerie of deer and elephants, and lurking in the background was a big brown rhinoceros that looked like it weighed even more than the turtle.
While we were admiring the animals and surrounding chocolate architecture, a woman emerged from an adjoining room and offered us a sample of the building material. She told us that the candy sculptors add new layers of chocolate whenever the statues begin to turn white. "The chocolate is still fine, but it looks better when it has that rich, cocoa-brown color."
The samples were terrific, and we wished we'd planned ahead and made reservations for a tour of Daffin's plant, which is a few blocks from the store.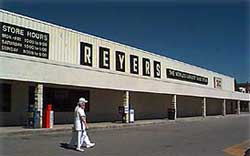 Reyers Shoe Store
Reyers, the "world's largest shoe store," is not far from Daffins. The store claims it stocks over 175,000 pairs of shoes. They come in all styles from over 300 different makers, but it's the range of sizes that's truly impressive. I found a pair of sparkly gold spike heels in a size 12 EE, and the men's athletic shoes also looked big enough for Michael Jordan. Narrow, wide, big, small, Reyers has a selection for every foot, and in their nearby outlet store, they have another 50,000 pairs on sale. If they don't have the biggest collection, they've at least beat Imelda Marcos.
Daffin's Candies & Chocolate Kingdom
496 E. State Street
Sharon, Pennsylvania 16196
(412) 342-2892
Reyers Main Store
Downtown Sharon, Pennsylvania
(412) 981-2200, (800) 245-1550
Reyers Outlet Store
69 East State Street Sharon, Pennsylvania
(412) 981-1100
1996