Restaurants of the Road
More Eateries

LOCATIONS OF FEATURED RESTAURANTS | HELPFUL LINKS

Next stop was Honey Bear's Barbecue. Honey Bear's offerings are renowned far and wide, and are touted as "Memphis-style." According to the counter staff, this means simply that the "sauce is thinner." The sauce is somewhat sweet, but as served was not spicy. The sides include slaw among others, and it is very good, a sweet and creamy version. Another highlight is the "Cowbro' Beans." They are not your typical bowl of plain-Jane pintos, but have generous amounts of peppers and hot links all residing in a thin tomato sauce. They are excellent. Honey Bear's says, "put a little south in your mouth," and "you don't need no teeth to eat our meat." Amen. Choices include pulled pork, beef brisket, hot links, ribs and chicken. You cannot go wrong with a pork sandwich, and sides of slaw and "Cowbro' Beans."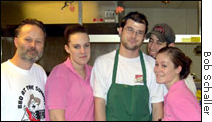 Thee Pits Again owner Roger Wagner, left, with staff members Ashley, Chris, Nick, and Megan
Out on Phoenix's northwest side, you'll find Thee Pits Again ensconced in a stainless-steel diner-styled building on the north side of the road.. Of the three businesses I visited, Thee Pits Again has the best facility by a nose over Honey Bear's, and the most varied offerings on the menu—including that old Arizona stand-by, fried rattlesnake. I say "stand-by," because if that's all there is to eat, I'll "stand by" until something else comes along. I hear it tastes just like chicken. That's your first clue, folks. Run away! Run away!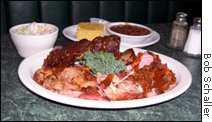 Memphis-inspired, enhanced by cornbread: The "combo platter" at Thee Pits Again
Roger Wagner, owner of Thee Pits Again, takes his show on the road frequently to national competitions. His place is full of plaques and trophies attesting to the excellence of his work. For pork and ham, the meat is marinated in beer before smoking over mesquite in the time-honored, traditional way. His meats are as excellent as they sound—I tried beef ribs, pork ribs, pulled pork, beef brisket, ham, and a chopped mixture of beef and pork. The ribs (both varieties) are tender and succulent. The smoke flavor comes through most in the sliced beef and pork. The sauce, according to Roger, is Memphis-inspired, but it is different in texture and taste from the others I tasted. It is sweet, tangy, and thick. A highlight at Thee Pits Again is the corn bread; not too crumbly, slightly sweet and served with honey butter. It is definitely a cut-above the other two places, as they serve only sliced bread or institutional-style white rolls.
All three establishments prepare their meat in the traditional barbecue style, and all are excellent. I suspect all three use mesquite. Of the three, Honey Bear's sauce was not as tasty in my opinion, but the other two are great, with the edge, I think, going to Thee Pits Again. But A&J's is close and also excellent with the added heat. I suspect first place would go to whatever I was in the mood for on that particular day, sweet and tangy or hot and spicy. All have some great sides, but overall, Thee Pits' sides were a shade better. Thee Pits Again shines on dessert offerings, and if you don't try the Caramel Apple Granny, you aren't living right, and your intelligence may be suspect!
My final suggestion to you is that if you love barbecue, and you can get to Phoenix, look me up and we'll make the rounds so you can decide these important questions for yourself. Let me be your guide! Meanwhile, I will continue my quest, as I'm certain there must be at least one great place I've missed on my pilgrimage! I'll keep you posted.


UPDATE: SEPTEMBER, 2004

My review for the original article rated Honey Bear's sauce as less tasty than the other two establishments on the day of my visit. This was a surprise to me at the time, as Honey Bear's always seemed very good on earlier visits. Since I wrote the article, I have been back to all three establishments repeatedly -- as a fledgling food critic, I believe it is important to keep up with all the latest "developments" in the field!

I have discovered that the less than perfect sauce I encountered that day at Honey Bear's was an aberration -- each time I have revisited, I've found their sauce to once again be as delicious as I remembered from visits prior to the review! Of course, this makes it even more difficult to choose a "favorite." So, I will keep bearing this heavy burden, checking and rechecking, and searching for the Holy Grail of Barbecue, sampling and tasting until there is no further doubt. This may take a good long time, so please "bear" with me!

Editor's Note: Bob Schaller's keen wit and roadtrip expertise can be read daily on the Great America RoadTrip Forum. We encourage you to take him up on his offer of experiencing the best of Phoenix, Arizona BBQ when you visit his fair city.