Restaurants of the Road
More Eateries

When Bob Schaller grows up, he wants to be a food critic, at least as long as he doesn't have to review "anything cold, raw, or slimy." Leaving oysters and sushi to others, Bob's chosen quest is great barbecue. A 'cue zealot from a tender age, Bob not only knows how to find the best sources, he's also done research on the history of this most American of delicacies. In this report, you'll learn about the different styles of barbecue and where to enjoy the best in Bob's hometown of Phoenix, Arizona.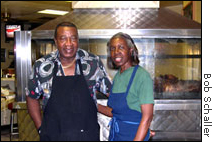 Where eveybody knows your name: At A & J Chicago-Style Barbecue, Abe Hawthorne presides over the smoker while Jean Hawthorne runs the kitchen.
Many of us think the crux of good barbecue is in the sauce. Not true! Barbecue is the method of cooking. The sauce is just an auxiliary delight, although very important, as we shall see. True barbecue is prepared by smoking meat over relatively long periods, at low temperatures, typically 200-250 degrees. Barbecue as a method of cooking has its roots in the most primitive methods of preserving meat, thousands of years old, both as meat was dried on racks in the air above a fire, and also in the pit-cooking common to Polynesia.

As for the most popular styles of barbecue, I've heard of these most often: North Carolina, Tennessee (or Memphis), Chicago, Kansas City, Texan, and Polynesian. There are many others, probably almost as many as there are barbecue masters.

In North Carolina, the sauce is usually vinegar-based, and the meat is typically smoked over hickory or pecan wood, perhaps with a dry rub applied. The sauce is usually served on the side. South Carolina-style is similar but has a mustard-based sauce.

A vinegar-based sauce is popular in Tennessee, although I think the Tennessee sauce is usually a bit sweeter than the Carolinian style, and it seems usually to have tomato in it also. Both are typically thin sauces. In the mid-west, you can find thicker tomato-based sauces, often with smoky flavors added. These include the "Kansas City" varieties, which often include cinnamon or cloves in their ingredients.