Restaurants of the Road
More Eateries

LOCATIONS OF FEATURED RESTAURANTS | HELPFUL LINKS

In Texas, you'll find coffee is a common ingredient in the sauce, and hot spices are the norm—whether Tabasco, red pepper, chilies, or whatever else is handy that has heat in it. Traditionally, Texan barbeque uses mesquite wood, the meat is smoked with a dry-spice rub and the sauce is almost an afterthought.
Farther west, Polynesian sauces have tropical flavors such as orange and pineapple—very different and exotic.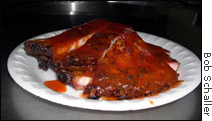 A & J Chicago-Style Barbecue's pork spare rib platter
In the south, particularly in the Carolinas, you say "barbecue" and people think "pork." In Texas, barbecue is beef, often brisket. As a general rule, pork is preferred east of the Mississippi, beef to the west of it.

For this field report, I have undertaken a quest to discover the best barbecue to be found in Phoenix, Arizona. My first stop was A&J Chicago-Style Barbecue, owned and operated by Abe and Jean Hawthorne. My first question to Abe was "what exactly is 'Chicago-style' barbecue?" Abe explained that he distinguishes his cooking method from those that roast their meats in an oven, add sauce, and call it 'cue. He slow-roasts his pork spare ribs, chickens, hot links and other meats in a glass-enclosed smoker, over a mesquite fire. It is closely akin to the traditional, slow cooking process, although his wood fires are hotter than you might find in other establishments. For this reason, Abe uses thicker cuts of meat, and pork spare ribs instead of the baby back ribs that are popular in other establishments. They are thicker and hold up better in the slightly hotter temperatures without drying out. They are also meatier than the baby ribs.

Abe serves his victuals lunch-counter style (no linen table cloths here), smothered in sauce—which is vinegar and tomato based and is about a 7 on the Schaller "heat scale" of 1 to 10. The sauce is very southwestern in terms of heat; you can definitely break a sweat while enjoying A&J's foods. Meals come with the choice of several great side dishes, such as pintos, coleslaw (fine-cut & very mild), fries cut on premises with skins on (excellent), green salad and potato salad, etc.