Hollywood Cruisers
Sharon, Pennsylvania—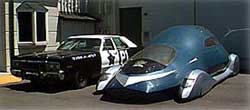 Left: The cruiser driven by John Belushi and Dan
Aykroyd in "The Blues Brothers;" Right: The sci-fi
limosine from "Freejack," starring Mick Jagger
Both of these movie cars as well as the one below are at home in the parking lot of Quaker Steak & Lube, a restaurant and bar in Sharon, Pennsylvania, that boasts the best wings in the U.S.A. It also has a prodgious collection of cars and motorcycles, many of which are suspended upside down from ceilings inside.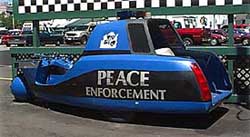 Three-wheel Peace Enforcement vehicle
also used in "Freejack"