| | | | |
| --- | --- | --- | --- |
| | You Got It! | | |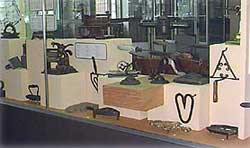 It's a goffering iron!
You can't believe how many kinds of irons it took to keep ladies and gentlemen properly crimped and pleated in 1850! This goffering iron was used to iron bows. Other odd-shaped implements were used to give collars, pleats and hats a perfect look.

We discovered this memorable gizmo at the Henry Ford Museum in Dearborn, Michigan. The next time you're in the Detroit area, don't miss it. It has the greatest collection of remarkable household gadgets anywhere!
RTA's Newest Funny Signs