| | | | |
| --- | --- | --- | --- |
| | You Got It! | | |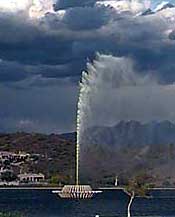 Yes! This is the world's tallest fountain!
And yes, it's in the Guinness book. Located in Fountain Hills, Arizona, the fountain performs every hour all day long. Its 600-horsepower pumps shoot a stream of water 560 feet into the sky. You can see it for miles, especially at night, when it's lit up.

The fountain was the brainchild of C. V. Wood, Jr. and Robert P. McCullough, who was also responsible for bringing the London Bridge to Lake Havasu City, Arizona.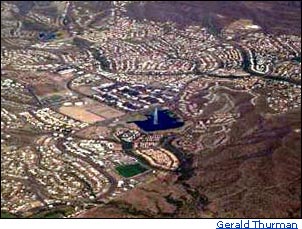 Built in 1971, when the area's population was nearly nonexistent, the fountain gave the now-flourishing community of Fountain Hills its name and claim to fame. Ron Robertson, a 911 dispatcher in Scottsdale, took us on a tour of the area which culminated in a viewing of this world wonder.
The picture at the right shows the fountain from a plane taking off from the Phoenix airport.
RTA's Newest Funny Signs