Romancing the Road: Links & Resources for Lovers on a Roll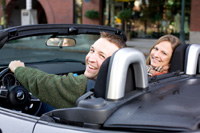 Headed down the road, wind in your hair, your honey by your side - what could be more romantic? Not much. At least not until a tire blows and the bickering starts over who left the jack behind. And nothing squelches romance quite like a string of "No Vacancy" signs. Road trips take work, especially if you want romance en route. Megan Edwards gives some advice before you ride into the sunset. [Read more] (5/2/08)
RTA Recommends
In Association
with Amazon.com
Hot Air Balloon Rides: Links to ballooning companies all over North America. A sure winner for a romantic adventure.
---
Wildflower Hotline Links: Maintained by PhotoTravel, this site has an extensive list by U.S. state of blooming locations and viewing information.
---
Furnace Creek Resort: Swimming pools fed by hot springs, the world's lowest golf course at -214 feet, tennis courts, and a real, wild-west saloon make for an unusual romantic retreat.
---
RTA's Favorite North Coast Hideaway: Stanford Inn near Mendocino, California, offers deluxe accommodations, llamas, canoeing and fine dining.
---
Napa's Best-Kept Secrets: Little-known but wonderful wineries in California's Napa Valley
---
Texas Wine Tours: Twenty Texas wineries host special events in October
---
Campground Directories: U.S. & Canada
---
Travelers Tales: Allen Noren, a veteran travel writer who has traveled extensively with his partner, shares ten great tips for couples.
---
Escapees is primarily a RV club, but it provides a number of services including health insurance, mail forwarding and community involvement opportunities.
---
Gayscape provides a list of nightclubs with gay, bisexual and lesbian focus in major US cities.
---
Hostelling International: American Youth Hostels provides a comprehensive list of youth hostels in the United States.
---
Festivals.com does a great job of maintaing an up-to-date directory of American arts and music festivals.
---
Keeping Romance Alive While on the Road
Travel is romantic, but remember that change and unfamiliar surroundings also challenge a relationship in new and unexpected ways.
Plan your trip together. Surprise excursions are usually more fun for the planner than the recipient. Why? Because anticipation is as important to enjoyment as the physical experience, and you'll also learn about your partner's preferences as you make your decisions.
While you're on the road, extra consideration and kindness towards your partner is a must. Be proactive—past acceptable behavior may not be enough.
It helps to assign the responsibilities—then resist the temptation to interfere with how tasks are accomplished.
Don't let the grouchies get the upper hand! Eat meals on a consistent schedule.
Remember that the journey's the thing. Make it a priority to enjoy every moment, even the unplanned ones.
Keep a journal, and if you take pictures, take the time to organize them into an easy-to-enjoy format. Recalling shared experiences is not only romantic, it strengthens relationships in the long term.