The Road Wirer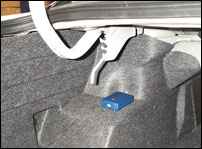 No need to "see the sky:" The PT-100 works wherever you stash it.
PT-100: Car 54—Where Are You?
For those of you who remember "Car 54—Where are you?," there is brand new tracking device that would make such queries about as relevant as the old 50's TV show. GeoSentry, a firm based in Irvine, California, has developed an amazing new product that can be used to track individuals, vehicles, shipping containers, rental cars, and just about anything else on the move in the United States, within certain parameters. The PT-100 is about the size and weight as deck of playing cards and looks like a slightly oversized pager.
Inside this compact space, the PT-100 houses a Global Positioning System (GPS) and digital cellular (GSM) transceiver, antennas for each, a beacon transmitter, a lithium ion battery, and all enabling electronics. Once turned on, the device locates the nearest GPS satellites and transmits (via the GSM digital cellular network) the location and other tracking data to system servers at the GeoTrax Protection facility in Fountain Hills, Arizona. Real-time tracking maps and other data is then accessible through a secure server from either an Internet Explorer or Netscape Web browser.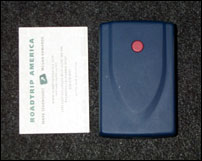 Smaller than a breadbox, more powerful than Dick Tracy's 2-way radio.
Impressively, the product is truly "plug and play." No additional software is required, and almost no involvement by the person or vehicle that is being tracked. Perhaps most surprising, the PT-100 doesn't need to "see the sky" in order to provide tracking information under normal circumstances. The PT-100 "checks in" with the server about every six seconds and provides detailed information about the number and frequencies of the satellites it is using in the tracking process.
The "Tracker" program provides current information about the direction, speed, latitude, longitude, and elevation of the tracked asset. The program makes an attempt to provide a current address at each tracked location using MapQuest. During our trials, we found this to be usually close, but never exact. The Tracker program also relays operational information about the device itself, including battery voltage, signal strength, and location of the cellular towers it's using.
To give the PT-100 a workout, we sent it on a drive with a long haul trucker. Mike Booth drives a 2001 Freightliner Classic XL 18-wheeler, and just to give the unit a real test, we stashed it in the closet of his sleeper. Mike headed east from Las Vegas, Nevada, and over the course of his seven-day trip, we were able to track his progress along the Interstates as he passed through Laughlin, NV, Flagstaff, AZ, Casa Blanca, NM, Shamrock, TX, Elk City, OK, Elkhart, IN, Owensboro, KY, and Rockport, IN to Whitehead, IN. The tracking information was so good that in a number of places, while speaking to him on his cell phone I was able to tell him about roadside landmarks that he was about to pass a few minutes (or even seconds) before he could see them. At one warehouse location, I was able to see the zigzag path of a "25-point turn" he had to make to back his truck up to a very tight loading dock!
The lithium battery is supposed to last six hours between charges, but we found that the battery could rarely go more than an hour without dropping below the operating threshold. When the voltage would drop too low it would report that Mike was stationary at the last known location, even if he was 100 miles away to the east. Shortly after we began the trial, we used the DC charger and the battery worked well for the rest of the trial. It's likely that we had a defective battery, and in conversations with GeoSentry, we learned that the company is developing new batteries that will operate for up to sixteen hours before needing to be recharged.
As it turned out, Mike's route was a perfect one for testing the best-case scenario for this device. His route across the country went through areas with good to excellent GSM digital cell coverage. This Geo-Sentry product employs GSM provided by the AT&T Wireless, Cingular Wireless and T-Mobile, USA. These three carriers and their roaming partners provide service to Seattle, Portland, San Francisco, California's central valley, Los Angeles, Las Vegas, Phoenix, sections of Texas, Oklahoma, the central states, Florida, and New England. I also sent this device to Cody, Wyoming, an area without a dedicated GSM carrier, and quickly discovered that it could provide no information at all, because the control and communication channels only work where digital GSM is available. It turns out that most of the Rocky Mountain states, central and northern Nevada, Canada, and Mexico have limited or no GSM service, and the PT-100 is mute in those areas.
Where GSM service is available, the pricing of the product and service is reasonable at $1000 and $90/month for unlimited locations with reports every 15 seconds. The six-second reporting interval is also unlimited at $150/month. GeoSentry also offers a rental program that includes the device and unlimited service with a daily rate at $20/day or $100/week or $250/month. There is a pricing plan for stand-by units at $29/mo + $0.50 surcharge for reported positions - which, of course, could get very expensive if a working unit was reporting a new location every six seconds.
The average roadtripper may not have a need for this application, but anyone who has a need to know where a specific vehicle might be or the moment-to-moment location of a valuable asset like a painting or a classic car will immediately see the value of this service. Needless to say, this new technology raises some privacy issues. While Mike Booth was an excellent sport to let me track not only his exact path but also his highway speed, I'm not sure I'd want to share that information about myself. On the other hand, if I decided to take an extended solo road trip, I might be quite happy to know that someone else could find me if something went wrong.
The PT-100 is amazing technology and a remarkable product. Until there is more GSM coverage, it won't work very well in the Western states or on two lane byways, but it is a concept with a lot of promise. As so often happens with new technology companies, GeoSentry appears to be out of business. (checked on 8/31/08)
Mark Sedenquist
March 8, 2004