The Road Wirer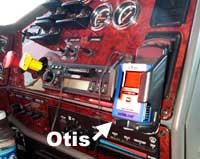 The "Audible Otis" at work on the dashboard of Mike Booth's big rig
Road Trippin' with Otis
"That Otis device just might be pretty good," said professional trucker Michael Booth with characteristic understatement. The Otis is a tiny 64 Mb portable audio player that can hold up to 17 hours of voice or 2 hours of music recordings. It can be used in conjunction with audio programming available through Audible.com. Company representative Jonathan Korzen introduced me to the Otis at this year's CES show in Las Vegas and sent a complete package for testing purposes. In addition to my own vehicle, I tried it out in the cab of Mike's 2001 Freightliner Classic XL.
Audible.com offers a remarkable array of audio material including current bestsellers, articles from prominent newspapers and magazines, radio shows, and recordings of famous speeches. Available as downloadable files and via streaming technology, programs can either be listened to from a PC or transferred to mobile devices like the Otis. The files on the Otis can be listened to by using ear buds or a cassette-shaped device that allows playback through an ordinary dashboard cassette deck. As I drove the back roads of southern Nevada, I listened to current news articles read aloud from The New York Times, the Wall Street Journal and Fast Company. I also listened to an interview with Robin Williams and the syndicated radio show Car Talk. One of the nice features of Audible.com's offerings is their subscription service. You can select and download programming at night and then take the Otis device with you on a road trip the next day. Daily news digests from newspapers can cost as little as .95 per day and monthly magazines subscriptions run about $30.
Startup is straightforward and relatively simple. In less then 35 minutes from the time I opened the package, I had fully installed the software on my laptop. The installation software is designed to launch a PC's default audio player, so that an audio file describing the features of Audible.com plays during the installation process. In my test, this feature remained silent and proved to be the harbinger of a conflict between the Windows Media Player and Real Player. This problem also precluded my ability to hear streamed files play from Audible.com's servers. I was able to restore this function by specifying Real Player as the preferred device. The Otis device, at present, is not being shipped with a DC/AC adapter (which should be available in another few weeks) and is powered by two AAA batteries. The batteries last about four hours with near-constant use. More information is available at www.audible.com/buyaplayer.
When Jonathan Korzen first showed us the Audible Otis, I thought it was a natural for use by dashboarders and other professional travelers. At the time, I was thinking in terms of audible books like those offered by "Books on Tape." I knew that many professional drivers like Mike Booth like to listen to mysteries and westerns during the typical 100,000 miles they drive each year. As it turns out, there are a number of firms that have developed specialized offerings for these driving professionals. Probably the most convenient services are those offered by Books In Motion. Like Audible.com, listeners can purchase novels, but the delivery method is via cassette tapes. To make renting easy for truckers, the company allows renters to pick up tapes at one truck stop and return them at another. Depending on the number of cassettes in a title, the rental rates range from $6 to $14 per book. An eight cassette set, typical for most bestsellers, represents 10 hours of recording and is available for up to16 days for a rental of about $12.
Dialup connections are not ideal for downloading audio files, but they do work. Audible.com appears able to provide dashboarders with material not available from any other service provider. In my tests, I noticed a distinct low frequency hum while using the cassette adapter that seemed to persist even with the adjustments of the built-in software equalizer and the external equalizer on my dashboard radio. I hope that later versions will allow for some direct connection to the onboard stereo system rather than relying on the less than ideal cassette adapter.
In a clear effort to be competitive with other companies marketing audio services, Audible.com offers two monthly plans. Both include a complete Otis package for $49 (less than half of the regular price). For $13 a month, Basic Audio Listener includes one audio book and one subscription to a service such as a magazine, newspaper, or radio show. Premium Audio Listener, at $16 a month, provides two audio books no matter what the regular purchase price. Since the regular price for many bestsellers exceeds $30, this represents a significant savings.
Navigating the Audible.com site requires a bit of persistence, but there are many fine elements to explore. The range of audio recordings available is immediately apparent on Audible.com's home page.
It seems likely that devices like the Otis will prove irresistible to traveling professionals as well as holiday road trippers. As you can see in the photograph, the Otis fits nicely onto a big rig dashboard. Ease of connection and access to an impressive range of audible material just may make Audible.com a natural choice for dashboarders of every persuasion.
Mark Sedenquist
Arcadia, CA
March 18, 2002