The Road Wirer
Update 9/03: LAPTOP MAGAZINE called the MegaMedia Bag "hands down the best choice" in its 2003 Ultimate Mobility issue.
Gear and Gadget Bags Designed With Dashboarders in Mind: RoadWired's Products Lead the Pack
When RoadTrip America hit the road for the first time in 1994, we purchased Targus Computer Bags to protect our laptops and electronic gear against the hazards of road travel. Despite numerous attempts to overstuff those bags, they have held up remarkably well and might have continued to be our first choice if I had not been invited by Michael Hess to visit RoadWired's booth at CES 2002.
The first thing I noticed when I picked up the MegaMedia computer bag was the shape and firmness of the handle. I knew instantly that this line of computer luggage was created by someone who had probably had his hand creased by a collapsing handle one time too many while carrying an overstuffed gear bag. The RoadWired handles are constructed with a firm interior that allows the carrier to get a secure purchase without experiencing that usual level of sustained discomfort. As I continued to check out the layout and design, which features 36 compartments and pockets, I realized I was looking at the perfect dashboarder bag.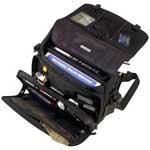 MegaMedia Bag Interior
In the age of extensive airport security checks, Michael's bags offer a number of timesaving design features. Virtually all RoadWired products provide easy ways to unzip and expose all sections of the bag, allowing for fast inspections and gear retrieval. This photo illustrates how a standard laptop can be removed in a few seconds and placed on the security screening belt even while the bag is still hanging from the carrier's shoulder. Such a feat would be difficult with a conventional computer bag. Special structures are built into the bag to provide support for all forms of electronic gear. Even with all compartments full of equipment, the bag measures a little under 10" in depth. In addition to a leather version, RoadWired makes a model constructed of 1050 denier ballistic nylon.
Another cool RoadWired gear bag is the "Digital Daypack," which features the same quick-access design structure, 12 compartments, and a suspension system that "floats" the laptop above the bottom of the pack. RoadWired also offers a full line of other computer cases and some well-designed pouches for phones and digital cameras.
Recently, Lucent Technologies developed a "Corrosion Intercept" material that RoadWired has incorporated into their "Advanced Protection System" sleeves. The material in these sleeves is a polymer designed to protect electronic devices from humidity, dust, gases and environmental pollutants which can lead to circuit corrosion. For more information, click here.
Until dashboarders and road warriors adopt some cable replacement technologies (like BlueTooth or wireless LANS), our on-the-road workspaces will be cluttered with miscellaneous cables and telephone cords. RoadWired has some solutions that you might consider using today. These "Auto-Retract Connectivity" devices are outfitted for both standard telephone connections and network/ISDN cables. The most comprehensive solutions are RoadWired's various "Cable Stables." These small cases are designed to hold batteries, cables, manuals, and all of the paraphernalia that dashboarders have to carry.
My favorite gadget in RoadWired's product line is the "KeyCard Luggage Locks." These clever little locks come in four colors and are amazingly strong.
RoadWired's Cable Stables and MegaMedia gear bags are by far the best storage devices I've seen for working dashboarders, and I recommend them with enthusiasm.
Mark Sedenquist
February 4, 2002 & September 28, 2003
Las Vegas, Nevada