---
Membership RV Parks & Discount Camping Clubs
, by Alice Zyetz

Alice Zyetz and Jaimie Hall have been RVing fulltime with their husbands for more than ten years each. Together they have published two books on the RV Lifestyle: RV Traveling Tales and The Woman's Guide to Solo RVing. In addition, Jaimie's popular Support Your RV Lifestyle! is an invaluabe resource for those who want to make a living on the road, and Alice's You Shoulda Listened to Your Mother offers secrets of success for working women. In this monthly column, Alice and Jaimie explore facets of RV life, lifestyle products, and a variety of RV issues, joys, and challenges.
Second only to "How do you get your mail?" is the question "Where do you park at night?" The answers are as varied as there are RVers. They range from staying in public campgrounds to free and inexpensive parking on government land and in truck stops and from stopping for the night at "Camp Wal-Mart" to staying at posh private campgrounds in resort areas for a two-week vacation. In addition are the KOAs and myriad private campgrounds sprinkled throughout the country for which you can get 10 to 15 percent discounts from camping organizations like Good Sam, Escapees, AAA, and others.
MEMBERSHIP PARKS
Since there are so many options available, why join a membership campground? For some part-time RVers, this represents a resort with many amenities to use as a less expensive ongoing vacation spot, with the added advantage that there is usually a reciprocal agreement allowing one to stay at similar resorts elsewhere in the country and be part of the "family." For those who are part-time or full-time, the membership campgrounds are a home away from home or the home itself, albeit you can't stay there full-time. Usually, members are limited to two weeks in and one week out in the peak rental periods. During the off-peak period, members can stay for three weeks, but they still have to leave for at least one week before returning. However, for additional money, you can rent for months at a time.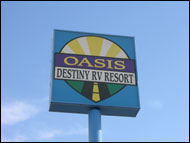 Membership parks (also called resorts or preserves) began as exclusive chains of campgrounds. More expensive to join, they offered clubhouses, pools, activities, hiking trails, basketball and tennis courts, gated access, and advance reservations. As time has gone on, the distinctions have blurred somewhat. Some chains went out of business or were bought by other chains. Prices have been reduced, and some access has been open to the general public for large group camping. In addition, original memberships get resold, ownership of the individual campgrounds is somewhat volatile, and the selection of campgrounds that are available to members tends to change throughout the term of the membership period.
One of the largest chains, (with more than 50 preserves) is the combination of Thousand Trails, NACO, and Leisure Time Resorts. Read the fine print. There is an initial buy-in (typically $3000+) based on the number of parks you have access to plus annual dues. You then have a number of "free nights" per year, but must pay a small amount per night after you exceed that number. Rental units are also available.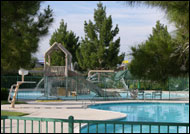 Cal-Am Resorts is an example of the new breed of membership RV campgrounds with high-end recreational amenities, on-site libraries, and extensive event planning services for guests. Currently there are seven Cal-Am Resorts in the Phoenix, Arizona area with more planned throughout the west.
CONTINUED ON PAGE 2>

Reciprocal RV Companies, "Used" Memberships,
Discount Camping Clubs, and Things to Keep in Mind