The Tombstone Tourist: Musicians
, by Scott Stanton
The Tombstone Tourist began as a project Scott Stanton thought would take six months to complete. Instead, locating the graves and researching the careers of over 500 members of the "Dead Musicians Club" took him more than ten years. He traveled all over North America, the Caribbean, and Europe. The result is a something far greater than a directory of grave markers. The Tombstone Tourist is one of those rare and wonderful works that succeeds both as an accurate guidebook and a truly great read.
Even if you aren't a big music fan, and even if you never really cared where Patsy Cline, Sonny Bono, or Liberace were laid to their final rests, this book has the power to captivate. If you do care about 20th century musicians, your library won't be complete without The Tombstone Tourist, and you should never take another road trip without a copy on your dashboard.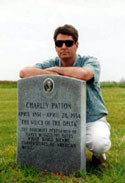 Tombstone Tourist
author Scott Stanton at the Mississippi grave of blues artist Charley Patton
One of the most appealing qualities of Stanton's work is that he steers clear of judging the artists he profiles. He covers the life and death of Roy Rogers and Aaliyah with the same depth and respect he gives Louis Armstrong, Jimi Hendrix, and Tammy Wynette. From Roy Acuff to Frank Zappa, they're all here, along with fascinating details you won't find anywhere else.
Another remarkable thing about this book is that, despite its gloomy title, The Tombstone Tourist is more about life than death. During the time he was researching the book, the author faced his own brush with mortality and went through heart transplant surgery. An excerpt from his introduction is the perfect illustration of why his book is worth reading cover to cover:
"...What have I learned from all this? I've learned that Louis Prima (not David Lee Roth) is just a gigolo, that Michael Jackson stole all of Jackie Wilson's moves, that Willie Dixon wrote pretty much the first two Led Zeppelin albums, that Mama Cass Elliott's cause of death was not sandwich-related (and that she hated being called "Mama"), that there is no conspiracy covering up the deaths of Jim Morrison, Johnny Ace, or Kurt Cobain (regardless of how many Internet sites claim the contrary), that when Diana Ross dies she'll be lucky if someone other than the funeral home representative shows up at her funeral, that the drummer from Toto did not die from spraying his fruit trees, that alcohol, cocaine, or heroin never did anyone any good, that death was a good career move for Elvis, and after walking in well over two thousand cemeteries past row after row of the dearly departed, life is too short to do something you don't want to do."
Life is too short to miss reading great books, and this is one of them.
Megan Edwards
10/03