Tiki Road Trip: A Guide to Tiki Culture in North America
, by James Teitelbaum
I first wrote about Tiki Road Trip in 2003, when the first edition was released. When a new edition appeared on my desk, I opened it immediately. I was about to head to Great Falls, Montana, and I knew if there were a Tiki bar there, James Teitelbaum would tell me all about it. Little did I know, as I flipped the pages of the new Tiki Road Trip, that I was about to learn about one of the greatest Tiki bars in the history of tiny paper parasols. The Sip-N-Dip Lounge features a swimming pool with a big glass window visible in the bar. Mermaids swim for the edification of bar patrons on the weekends, and a pianist entertains most other nights. The Tiki experience is up there with the best, and longtime head bartender Vern Green can prove it. His well-worn copy of a 2003 GQ reveals that the Sip-N-Dip was named -- drum roll, please -- the top bar IN THE WORLD.
And it was great. And I never would have known about it without Tiki Road Trip. This new edition is every bit as good as the last -- the only sad thing is the updates about Tiki bars that no longer exist. But have no fear. Tiki is not in danger of going extinct. Even though many old fishnet-draped wonders have shut their doors, new Tiki bars are popping up all over. The phenomenon continues to evolve, and Tiki Road Trip is the great way to keep track. Whether you're on a vacation, a business trip, or you want to discover something new in your own home town, you'll never have to miss out on a mermaid or an animatronic Tiki god again.
Below is the review I wrote about the first edition of Tiki Road Trip. I've decided to leave it here, because everything I said still applies. It may be hard to believe that a book about bars decorated with kitschy pseudo-Polynesian artifacts can offer a fascinating look at American cultural history, but this one succeeds. And after my trip to Great Falls, Montana and the Sip-N-Dip Lounge, I'll never leave home again without checking for Tiki bars along my route.
Megan Edwards
8/5/07
(Link updated 11/18/22, RTA)

TIKI ROAD TRIP
Forgive me, but isn't "Tiki Culture" a bit of an oxymoron? I couldn't help wondering when I first saw the subtitle of James Teitelbaum's latest book. Is there anything even remotely culturally significant about fake Polynesian totems and fruity drinks decorated with little paper parasols? Come on. Tiki is tacky, and we all know it.
But Tiki Road Trip was too enticingly idiosyncratic to put down, and I was only a few paragraphs into the introduction when the scales began falling from my eyes. Tiki is not only culturally significant, it's oddly seductive. Or maybe it's Teitelbaum's obvious love for his subject matter, careful research, and engaging writing style that make bamboo walls, grass skirts, and puffer fish decor suddenly fascinating. Whatever it is, Tiki Road Trip is a cover-to-cover delight, and I will never again be able to drive past a bar with an outrigger canoe without wanting to go inside. Wow. That means this is a book that changes lives.
The first amazing revelation in Tiki Road Trip is that "Polynesian influence on American popular culture is nearing its 75th year," as Teitelbaum states in his acknowledgements. Later on, he explains how it all started not long after World War I, when the "Golden Age of Travel" meant that people were coming back from cruises in the South Seas with visions of hula girls dancing in their heads. Then came visionary entrepreneurs like Don the Beachcomber and Trader Vic, and the rest is history.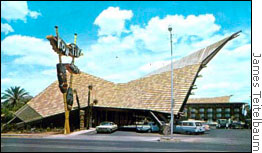 Kon Tiki Hotel in Phoenix, Arizona: Gone, but thanks to
Tiki Road Trip
, not forgotten
But Tiki Road Trip is not just history. While he does include writeups of Tiki destinations that no longer exist, the bulk of Teitelbaum's information is about the scores of bars and restaurants that are still open for business not only in the United States and Canada, but also in far-flung places like Chile, Greece, and Norway. Teitelbaum developed complex rating systems for the establishments he reviews, including the extremely elucidating "TiPSY Factor," an acronym that stands for "Tikis Per Square Yard."
In addition to the reviews, there's an extensive glossary that defines an array of important terms like "volcano bowl," the large, ceramic dish used to create flaming drinks, and "Disney Tiki," a term for "any wooden Tiki statue that has been overpainted with bright colors." The glossary also provides info about major contributors to Tiki culture like Edward Leeteg, the "American Gaugin" who turned out close to 1,700 paintings of luscious island girls on black velvet.
For those interested in bringing authentic Tiki-ness into their homes, there are authentic recipes for making drinks like Mai Tais, Zombies, Scorpions, and Singapore Slings. There's more history here, too, including the fact that Don the Beachcomber invented "The Missionary's Downfall," and that the "Suffering Bastard" is one of the newer classic drinks (dating back only to 1968), and is "properly drunk through a straw while holding the nose so as to save the tender tissues of the lips and prevent premature insensibility."
I was a skeptic when I picked up Tiki Road Trip, but as the author beckoned me gently to the Bali Hai in my own backyard, I had to admit that my ignorance of Tiki was not bliss. Bliss is a drink in a coconut topped off with a pink paper parasol.

Megan
12/03