Footsteps in the Fog: Alfred Hitchcock's San Francisco
, by Jeff Kraft and Aaron Leventhal
Footsteps in the Fog is one of those books that defy easy classification. Yes, it's about the movies Alfred Hitchcock filmed in the San Francisco Bay Area, but it's far more than a detailed resource for film buffs. This book offers a fascinating way to observe and appreciate not only Hitchcock's genius, but also the history and evolution of the settings he chose.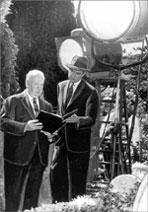 Alfred Hitchcock and James Stewart reviewing the Vertigo script
Authors Jeff Kraft and Aaron Leventhal focus mainly on three films: Shadow of a Doubt, Vertigo, and The Birds. Shadow of a Doubt was filmed on location during World War II in Santa Rosa, making it perhaps the most fascinating of the films from a historical point of view. Not only did wartime budget limitations and security measures affect the filming, but the Santa Rosa of today bears little resemblance to the tiny railroad town Hitchcock caught on celluloid. Kraft and Leventhal have done an impressively meticulous job of identifying locations and illustrating them with maps and photographs. The effect is two-fold. First, you'll want to see the movie. Second, you'll want to visit Santa Rosa. That makes Footsteps in the Fog a road trip book.
Vertigo, released in 1958, is set in "The City" itself, while The Birds (1963) was filmed along the Sonoma coast. Kraft and Leventhal identify all the locations in the films, making it easy to visit them. Along the way, they reveal fascinating facts and bits of history. In a scene in Vertigo, for example, Barbara Bel Geddes is shown sketching a design for a bra that uses the same engineering as a cantilevered bridge. The authors point out that the eastern span of the Bay Bridge has the same design. In addition, Geddes mentions an engineer from "down the peninsula." Today, she might well have used the term "Silicon Valley," but it's interesting to find out that the South Bay was a haven for nerds even back in the 1950s.
In addition to the three movies covered in depth, Footsteps in the Fog discusses six other Hitchcock films that have Bay Area locations or were inspired by places in Northern California: Rebecca, Suspicion, Marnie, Topaz, Psycho, and Family Plot. As they discuss each movie, the authors reveal lots of fascinating information about Alfred Hitchcock, as well as the actors he worked with.
Part film book, part guidebook, part history book, part biography, Footsteps in the Fog also belongs in one other category. Dozens of high-quality black-and-white photographs, both historic and contemporary, make it a great coffee table book. That's where my copy resides right now, but it won't be there on my next road trip to San Francisco. It'll be on the seat beside me as I rediscover the Bay Area through the art of Alfred Hitchcock and the thorough research of Jeff Kraft and Aaron Leventhal.

Megan
2/2/04