Memorial in Sierra Madre
Update 7/27/01: Tom Aki, pictured below, writes: "Last Friday the Viet Nam Veterans of America (VVA) Chapter 53 of South Bay Area in Redondo Beach had a dedication ceremony. After much hard work, they had the Pacific Coast Highway from the Ventura County line to the Orange County line dedicated as the Viet Nam Veterans Memorial Highway."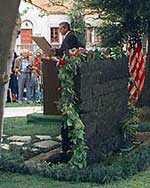 Mayor Doug Hayes presides
over dedication ceremonies
in Sierra Madre's Memorial Park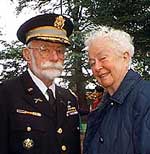 My parents, Col. Spencer Edwards and Betty Lee Edwards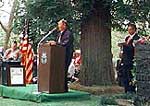 Weeping Wall designer Louis Watanabe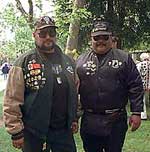 Viet Nam veterans Sal Gomez and Tom Aki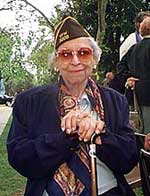 Ola Smith, Sierra Madre veteran who served in the Philippines and the Yukon Territories
APRIL 24, 1999
SIERRA MADRE, CALIFORNIA—
Yes, I had a good reason to attend Saturday morning ceremonies in Sierra Madre's Memorial Park. Not only is this tiny foothill village my home town, but my father, who served in both Korea and World War II, was one of the honorees.
"I'm wearing my blue uniform," he told me. "It still fits."
And fit it did. The only hint that this was not the Colonel Spencer Edwards I knew as a child was his neatly trimmed snow white beard.
The occasion was the dedication of a new memorial honoring all Sierra Madre veterans. The Weeping Wall, a black granite sculpture and fountain, was the decade-long project of Louis Watanabe, who was on hand to describe the monument's circuitous path from concept to reality.
"In the spring of 1987, I had a bunch of granite piled up in my backyard," he said, "And I wanted to do something different." Although the idea of a "weeping wall" was born that day, the project had a long road to manifestation. "It was easy to start," said Lou, "But much harder to finish."
If the three hundred people in attendance were any indication, the Weeping Wall was well worth its creator's efforts. Sierra Madre's mayor, Doug Hayes, presided over the ceremonies, and pastors from each of the town's churches spoke and lead the assemblage in prayer. In conclusion, a veteran honor guard fired a salute, and two buglers played taps.
After the dedication, I met Ola Smith, a longtime Sierra Madre resident who served as a nurse in the Philippines and the Yukon Territories during World War II. I also spoke with Sal Gomez and Tom Aki, who had been childhood friends and had served simultaneously in Viet Nam for three years without knowing it. A chance meeting at a dedication ceremony in 1997 allowed them to renew their friendship. Both wore bracelets inscribed with the names of comrades and relatives who are still missing in action. Tom's father has been missing in Korea since 1950. Sal wore a bracelet in memory of over 78,000 men and women who have been missing since World War II.
We must not forget. Sierra Madre has given us a beautiful new way to remember.