A Tree Stands in Manhattan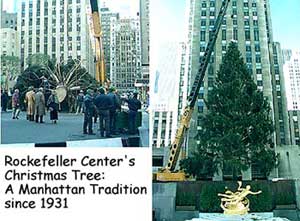 DECEMBER 11, 1996
NEW YORk, NEW YORK—
A gigantic Norway spruce towers regally over Rockefeller Center's skating rink today, keeping alive a tradition that began back in 1931, when construction workers building the center erected a 20-foot Christmas tree on the site.
This year's tree is one of the tallest ever, measuring in at ninety feet. When we first caught sight of it, it had just been taken off the custom-built truck to transport it from its erstwhile home in Armonk, NY.
Guy and Marc Torsilieri, who own a landscaping company in New Jersey, have been locating, cutting and transporting Rockefeller Center Christmas trees for the last fifteen years. They're always on the lookout for trees meeting the minimum height requirement of 65 feet, and they came across this year's winner several years ago.
Ann Dilger, whose backyard was domintated by the 90-foot giant, didn't want to part with it until this year, when her sons had finished using it for climbing and tree houses. In exchange for donating the tree, she gets US$2,000 and new landscaping to repair the damage to her yard done by a 5-ton crane and other heavy equipment.
In under an hour, the tree was up, complete with a silver star at the top. The rest of the decorations, including 26,000 lights, will be added by Rockefeller Center employees in time for the official lighting ceremony on December 5. We won't be here when the lights go on, but our holiday season has certainly had a kick-off to remember!