Restaurants of the Road
More Eateries

Flo's Café

Chino, California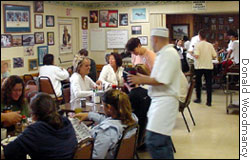 Breakfast at Flo's: Whether you fly in or drive in, bring an appetite.
[Getting There][RoadTrip Facts][Links]
Among pilots, airport cafes are known as the "home of the $200 hamburger." That alludes to the cost of cranking up your airplane, flying to a nearby airport for lunch, then flying back to your home airport. One of the best of these is Flo's Airport Café at Chino Airport. Flo's has gained a reputation as a great place to eat even outside the aviation community. Many "regulars" drive long distances to eat at Flo's, and the popular café has even won a rave review from Los Angeles food critic Elmer Dills. Flo's is also a favorite with visitors to the Planes of Fame Museum, which is just a short walk away.
If you like generous servings, reasonable prices, and a friendly, down-home welcome, you'll love Flo's. It's open seven days a week from 5:30 a.m. to 7:30 p.m. for breakfast, lunch, and dinner. Specials are posted daily by hand on chalkboards, and the regular menu runs the gamut from traditional American food to- traditional American food. If you are looking for an adventure in dining, you're in the wrong place! If you want old-fashioned, rib-sticking, satisfying meals, pull up a chair and sit down. A server will be right with you.
Breakfast includes a wide array of eggs, pancakes, and similar dishes, and Flo's is widely famous for biscuits and gravy on a bed of hash browns. Lunch is primarily burgers and sandwiches, but a selection of salads is also available. The dinner menu is fairly limited but the chicken-fried steak platter is to die for. Befitting its airport location, no alcohol is served. No one wants to see pilots staggering to their airplanes! Try the coffee instead-Flo's brews a good robust cup.
Located along the boundary of Chino Airport, the café is not well marked. In fact, there are only two reliable ways to find it on your first visit: (1) ask someone; or (2) turn in where all the cars are parked and come on in. You won't be sorry you did, and next time, you'll be a regular.

—Don Woodmancy
June 8, 2003
ROADTRIP FACTS

Flo's Café
7000 Merrill Avenue
Chino Airport

Telephone: 909-597-3416

Open every day from 5:30 a.m. to 7:30 p.m. for breakfast, lunch, and dinner
Area Attractions: Ontario Mills, one of the largest and most unusual shopping malls in the western U.S., is just a few miles up the road. Or, if you are going in mid-September, consider a visit to the Los Angeles County Fair in Pomona, "the largest county fair in the world."

LINKS
Planes of Fame Museum
Ontario Mills (Shopping Mall)
Los Angeles County Fair
GETTING THERE
From Union Station in downtown Los Angeles, take I-10 (San Bernardino Freeway) 24.8 miles to Cal-60 (Pomona Freeway), 10.3 miles to South Euclid Avenue, then turn right (south) 3.5 miles to Merrill Avenue, then left along the airport boundary to busy parking lot.