The Petroleum Museum in Midland, Texas
The Big Greasy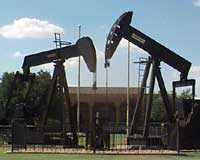 Two "grasshoppers" greet visitors to the Petroleum Museum
MIDLAND, TEXAS —
Midland, Texas, is aptly named. It sits in the middle of an impressive land mass shaped by geological forces too powerful to contemplate and the passage of too much time to imagine. That's where the Petroleum Museum comes in handy. Dedicated to the natural resource to which Midland owes its prosperity, this visitor-friendly destination offers three-dimensional metaphors to help humans grasp concepts and phenomena beyond ordinary ken.
It's easy to tell you've arrived at the right place. Two "grasshoppers" are bobbing away in front of the museum building, and a tall derrick looms nearby. They're just a small introduction to the treasure trove of technology in the "oil patch" behind the museum building: the largest collection of historic oil retrieving machinery anywhere.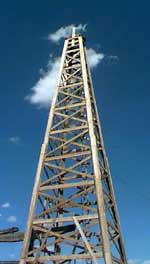 Antique oil derrrick, just a hint of what's on display in the "oil patch"
Inside the nicely air conditioned museum, friendly docents will tell you that there are three halls, each dedicated to a different chapter in the story of oil in the Permian Basin. It doesn't really matter where you begin, but we started in the gallery dedicated to the human history of the area.
After learning about the Native American inhabitants and arrival of early white settlers, we moved on to the hall that attempts to make geological time understandable in human terms. The museum succeeds admirably with narrated slide shows and displays of core samples showing the unusual strata that descend hundreds of feet below the surface. The displays make it easy to appreciate the contents of the third hall: oil drilling equipment and other exhibits that illustrate how oil is discovered and extracted from its subterranean hiding places.
One of the most riveting artifacts in the museum is a large black-and-white photograph of a Saint Rita #1, the well that's credited with initiating oil production in the Permian Basin. The success of the well was not anticipated, which is why it was named after Saint Rita, the patron saint of impossible and desperate causes. The photograph tells the happy story. Whether it was a saint's intervention, good prospecting, or plain old luck, the Saint Rita was a gusher of the first order.
In the hall dedicated to technology, the oil drill bit invented by Howard Hughes is particularly noteworthy. His innovative design revolutionized all subsequent drill design. Also fascinating are the displays of tools unique to the oil business: tubing crummies, rod elevators, crow's feet, and Geronimo escape devices, to mention just a few. Another exhibit offers reminders of how different American civilization would be sans petroleum products. Just imagine life without Silly Putty and Hula Hoops.
And imagine it without cars. As we drove away, I realized I couldn't. Where would America be without the nectar upon which our society floats? Next time you're in the Permian Basin, pay homage at the Petroleum Museum, and roll away in your gas-guzzler with new appreciation.
Megan
Midland, Texas
6/01
The Petroleum Museum
1500 Interstate 20 West,
Midland, Texas 79701
Telephone: 915-683-4403