Where Hollywood Learned to Speak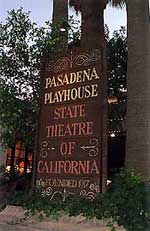 The Pasadena Playhouse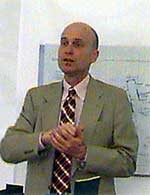 Lars Hansen tells of the
Playhouse's rise to fame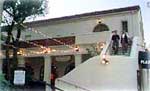 Evening falls on the
historic theater
PASADENA, CALIFORNIA—
"I like to imagine the Dusenburgs coming over the hills from Hollywood to Pasadena," said Lars Hansen. "They'd arrive here on El Molino Street in this quiet residential neighborhood and say, 'Well, here I am. Teach me how to speak.'"
Lars Hansen, Executive Director of the Pasadena Playhouse, was talking about the early years of this historic theatre, when talking movies had just begun to revolutionize the entertainment industry, and film actors suddenly had more to worry about than their looks.
Founded in 1917 by Gilmor Brown, the Playhouse moved into its current building in 1924. The College of Theatre Arts, the acting school started in part by Hollywood's need for speech training, rapidly gained in popularity and reputation. Many a household name — Dustin Hoffman, Gene Hackman, Sally Struthers, to name just a few— studied here long before they vaulted to fame.
California's State Legislature declared the Pasadena Playhouse the State Theatre of California by unanimous vote in 1937, and it continued to flourish for twenty more years. A subsequent period of decline brought about the theatre's closing in 1969, and it wasn't until a full decade later that the City of Pasadena, with a grant from the Economic Development Agency, began a restoration project that lead to a grand reopening in 1986.
Today, the original buildings, restored and earthquake-resistant, are used for their original purpose, to bring the best in live theatre to the people of the Los Angeles area, and to train the next generation of performers.
The Pasadena Playhouse
39 S. El Molino Ave.
Pasadena, CA 91101-2023
www.pasadenaplayhouse.org