Oyster Bay, New York

"Great Was the Racket!" 146 Years of Music in Oyster Bay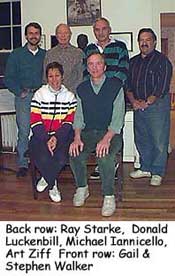 OYSTER BAY, NEW YORK—
Ray Starke is responsible for our introduction to Oyster Bay's Community Band. Ray's family has lived on Long Island since Mayflower days, and not long ago, he attended a slide show given by another native, Stephen Walker. Steve, who is the band director at Oyster Bay's middle school, had created a pictorial history of the town's century-old band.
Back in 1902, Ray learned, Theodore Roosevelt came home to Oyster Bay to cast his vote. He was greeted with fireworks over the water, and a blacksmith pounded a gunpowder-enhanced anvil salute with a sledgehammer every two and a half minutes. "Great was the racket!" observed one witness.
Ray's grandfather was a blacksmith, and Steve's talk led him to begin his own research. "I wanted to find out whether it was my grandfather who gave Teddy Roosevelt that memorable welcome," he says. "I still don't know for sure, but I've learned a lot of fascinating stuff in the process."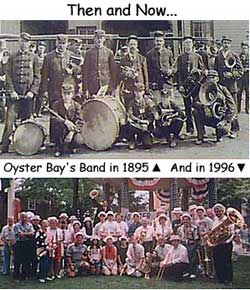 Oyster Bay's band is one fascinating feature of this town's colorful heritage, and Ray arranged for us to meet Steve Walker, the band's historian, Michael Iannicello, the band's director, and Donald Luckenbill, the organizer and director of the band after World War II. They were joined by saxophonist Art Ziff and flutist Gail Walker.
We learned about the band's beginnings before 1850, when the earliest newspaper reference appeared. The Teddy Roosevelt era provided many opportunities for the band to perform, including the memorable celebration of the town's 250th birthday in 1903. T.R. attended, and two bands vied for the honor of welcoming him. Secret Service men had to negotiate a truce between the two band leaders to make sure "one would not play 'Dixie' while the other rendered 'The Star Spangled Banner.'"
After World War I, the band reformed under the aegis of the American Legion. Later, in the 1940s, Donald Luckenbill began his 36-year career in the music department of the local school district. After World War II, he formed the Oyster Bay Community Band and started a tradition of summer concerts on the lawn of Oyster Bay High School. Michael Inannicello is the band's current conductor. The photograph at the left shows the band on the Fourth of July at the town bandstand, which was originally built in 1909 and reconstructed in 1980.
An evolving institution, the Oyster Bay Community Band has members who range in age from 15 to 80. "My 12-year-old daughter Cara will be joining us soon on the oboe," says Michael. The tradition of music in Roosevelt country continues...