All You Ever Wanted to Know About Fungi (the delicious, edible kind)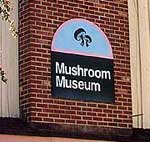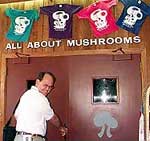 Mark
prepares to enter the Phillips Mushroom Museum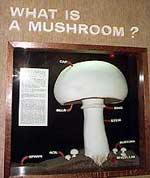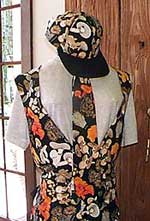 Fashions for the discerning mycologist!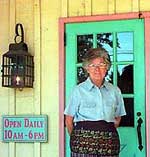 Doris DeNest welcomes us to the Mushroom Museum
KENNET SQUARE, PENNSYLVANIA—

I never met a mushroom I didn't like, which isn't to say I've tasted every one I've met. Having no background in mycology, I have enough fungal respect to admire any I come across in the woods from a distance.
But visiting the Mushroom Capital of the World is not a hands-off experience. Thanks to the efforts of families like the Phillips, who've been cultivating edible fungus for three generations, you can eat with impunity.
And thanks to the museum they created in 1972 in a hall at one end of their gift shop, you can learn how William Phillips developed methods for cultivating mushrooms year 'round. Mushrooms are the biggest cash crop in Pennsylvania, and a quarter of all the mushrooms grown in the United States come from farms around Kennett Square.
The Phillips' gift shop is worth a visit, too. Not only does it stock a tempting variety of marinated, pickled, preserved and dried mushrooms, but a refrigerated case is well stocked with fresh ones— shiitake, maitake, Crimini, oyster, Portabella, beech— all at prices that make it easy to indulge. We bought a "sampler package" that contained four exotic varieties for only US$1.50.
The rest of the gift shop's inventory is fungus-inspired, from mushroom-covered caps, t-shirts, ties, skirts and vests to magnets, potholders, tea towels and books.

If you're a mushroom lover, and you don't happen to be within striking distance of Kennett Square, don't despair. Everything Phillips sells is available online or by telephone, even fresh mushrooms. The Phillips Web site also includes current information about the Mushroom Museum's exhibits and hours of operation.