Thoroughly Engrossing: The Jelly Belly Factory Tour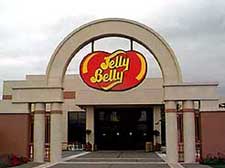 FAIRFIELD, CALIFORNIA—
If you've ever had the pleasure of popping a Jelly Belly jellybean into your mouth, chances are it was grown at the Herman Goelitz candy factory in Fairfield, California. It's not a sure thing, because Herman Goelitz also has a factory in Chicago, but the plant just north of San Francisco grows most of them.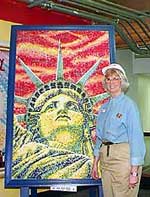 Our guide Barbara with one of Peter Rocha's bean mosaics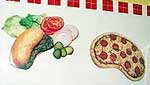 Burgers & pizza, Jelly Belly style
Yes, I meant to say, "grows." Jelly Bellies, as we were fascinated to learn on our guided tour, achieve their adult size through a process called "engrossing." It takes a week to plump one up to the proper dimensions, and some flavors take even longer.
The tour begins in the cavernous visitors' center that opened about a year ago to accommodate the ever-increasing number of candy-loving pilgrims. Its walls are lined with photographs and news clippings that trace the history of the Herman Goelitz Candy Company from its beginnings in Chicago to its fortuitous alliance with the inventor of Jelly Bellies. Nearby, there's a whole display case full of Ronald Reagan memorabilia. A huge Jelly Belly portrait of the President who catapulted the beans to international fame smiles over the main entrance.
Joining a group of about forty other visitors, we donned paper hats and began our circumnavigation of the factory, which was built with observers in mind. Elevated walkways allow excellent views of all the specialized machinery, and our guide Barbara provided the necessary explanations.
The first step in jellybean manufacture happens at the "mogul station" where the centers of the beans are molded from a recipe that includes cornstarch, corn syrup, fruit purees, and other flavorings. The centers are allowed to dry, and after they receive a "sugar shower," the engrossing process begins.
Dozens of engrossing machines, which look like small cement mixers, stand in rows. The beans are tumbled in stainless steel barrels as confectioners add syrup and sugar in a two-hour process. After drying, they get "engrossed" again, and the process is repeated six times. The last engrossing coats each bean with a shiny glaze. Two or three days later, the beans receive their official Jelly Belly tattoo, which is applied by a machine that does the job at a rate of 20,700 beans a minute. (And in case you were wondering, the factory turns out 40,000 pounds of Jelly Bellies in over fifty different flavors per eight-hour shift.)
Other fascinating features of the Jelly Belly factory are the robot room, where half a dozen multi-jointed, long-armed robots assist in the packing process, and the taffy cooker, which looks like something out of a Jules Verne novel. There are also a number of Jelly Belly mosaics on display. They're the work of Peter Rocha, whose bean art commands enough respect that one of his portraits hangs in Chicago's Art Institute.
After a bean-shaped burger in the visitors' center's restaurant, we browsed through the gift shop. In addition to a large array of attractively packaged assortments, the shop sells "Belly Flops" in two-pound bags. "Belly Flops" are beans that are too small, too large, or stuck together. Take it from someone who bought a bag-- they taste just as good as the beautiful ones, and they seem to vanish just as fast.
The Herman Goelitz factory tour is well worth the journey to Fairfield, and if you visit, you'll be sure to leave with new respect for what it takes to make the delectable little treats. For hours and directions, stop by the Jelly Belly Web site.
Megan
9/00