The New Orleans Jazz & Heritage Festival

All That Jazz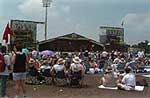 Jazz Fest '97

Who cares about a little mud?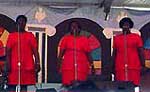 Simonia & Archie Milton Gospel Band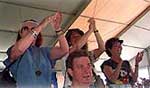 Audience participation required!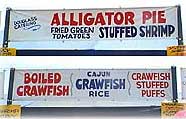 Cajun Cookin'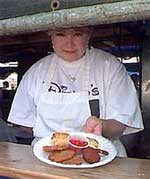 Lauren Villavaso serves up alligator pie, stuffed shrimp and fried green tomatoes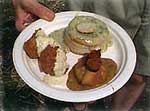 Crawfish beignets, oyster patties and a crawfish sac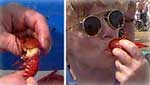 Crawfish etiquette: Suck the head!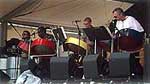 Executive Steel Band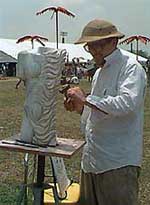 Sculptor at work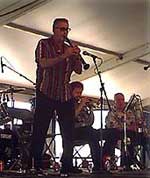 Andrew Hall and the Society Jazz Band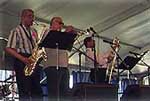 Clyde Kerr's Univision
NEW ORLEANS, LOUISIANA—
The New Orleans Jazz Fest is an event that has achieved legendary status, an annual Woodstock for people who like their music alfresco. It started in 1970 as a grass roots jam session, but now the only word for it is huge. Thousands of people from all over the world turn up to sit inside tents and on the ground for two weekends in May.
We went the second Thursday. The previous weekend had enjoyed the deluge we'd been drenched by in Houston, and the entire site had turned into an enormous mudhole. Even the intervening three days hadn't dried it out. I decided to wear Wellington boots, and Mark wore rubber sandals. "Whatever you wear," a local warned us, "Make sure it's strapped on. Lots of people lost shoes last weekend."
We took a city bus down Broad Street and walked through a neighborhood of modest homes to arrive at the fairgrounds. The mud began just inside the gate, and we were immediately glad we'd been warned.
If you ever decide to go to Jazz Fest, remember this word: casual. This is an event to kick back at, and if you wear clothes you care about, you'll be sorry. Even if there's no mud, you'll make up for it by dribbling crawfish juice down your shirt.
We checked out a map of the grounds and decided to go inside the gospel tent for a set. Audience participation was required, so I held hands with a Jewish lady from New York while we sang Amazing Grace. Even inside the tent, we were ankle deep in mud.
Next, we perused the food booths, which offered a dazzling selection of real Cajun cooking. Passing up twenty kinds of chicken, ribs, okra, corn, beans, and jambalaya, we tried alligator pie, oyster patties, shrimp puffs, fried green tomatoes, crawfish beignets, crawfish sacs, and a big pile of boiled crawfish. We took everything over to a tall table where we stood ankle deep in mud and made pigs of ourselves. Did I say wear casual clothes? Let me amend that. Wear a garbage bag.
The rest of the afternoon, we wandered from tent to tent and stage to stage listening to classical jazz, steel drum bands, and all kinds of music that has yet to be named. Jazz Fest proves beyond a doubt that jazz is still happening, a living tradition evolving each time someone picks up an instrument.
In addition to music tents, stages and food stands, the festival grounds were packed with crafts booths. We watched a sculptor hammer away on a limestone torso, and another one pour molten bronze into a plaster cast. Inside a tent, we caught sight of a voodoo priestess chanting into a woman's ear. I could have had her do it to me for $20, but she looked a little too genuine for me to risk it.
By late afternoon, we were sunburned, stuffed, tired and, you guessed it, muddy. My feet were sweltering inside my boots, and we decided to leave an hour or so before closing. I'd thought the festival would extend into the night, but I guess the organizers think eight hours of unlimited beer drinking is enough for the local police to handle. If you want to hear jazz in the evening, you have to buy tickets for formal concerts at other venues. Some of them last all night.
Jazz Fest is a fabulous phenomenon, and its organizers deserve medals for keeping it operating smoothly even when the weather isn't helpful. We may have had to deal with mud, but litter was nowhere to be seen. There were enough portable toilets to serve the entire population of Wyoming, and everyone was in an unbeatably good mood. It proves the power of good music.
I want to go to Jazz Fest again now that I've had my training session. I'll spend all day at the fairgrounds and all night at the jam sessions, and live on crawfish and beer for three straight days. I may even be ready for a voodoo priestess.