Houdini Lives in Scranton, Pennsylvania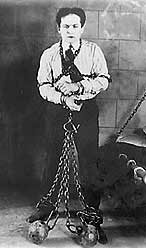 Harry Houdini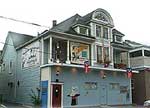 The Famous Houdini Museum
Scranton, Pennsylvania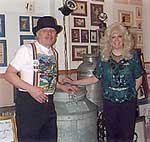 John Bravo & Dorothy Dietrich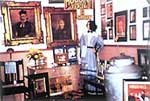 Houdini memorabilia, including one-of-a-kind photographs of his parents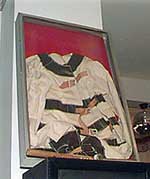 This kind of strait jacket was
no challenge for Houdini
SCRANTON, PENNSYLVANIA—
It helps to know the magic word if you want to get into the Famous Houdini Museum in Scranton, Pennsylvania. I tried "Abracadabra," and it worked, but by the time I left, I was wiser. The real magic word, or words, to be more precise, are, and you have to yell them: "Houdini Lives!"
Houdini really does live in this small storefront establishment, thanks to the dedication of the museum's directors, John Bravo ("Bravo the Great"), and Dorothy Dietrich ("First Lady of Magic"). Dorothy greeted us at the door and escorted us to the theater where John was telling a spellbound audience how Houdini met his end on Halloween, 1926, at the age of 52. " We believe he was murdered," he said. "He did NOT die from drowning in a milk can, as the Hollywood movie with Tony Curtis would have you believe. Can you think of a worse thing to do to a performer than having him die doing one of his escapes when it didn't really happen? But that's Hollywood for you."
For the next three hours, we lived in Houdini land, first enjoying a first-rate magic show by Bravo and Dietrich that included several illusions Houdini made famous. After a pause to shop for souvenirs in the museum gift shop, where you can buy bumper stickers that say "Houdini Lives in Scranton, Pennsylvania," magic tricks, and a fascinating selection of books and pamphlets, Bravo and Dietrich guided us through the museum's collection of Houdini memorabilia.
We left the Famous Houdini Museum impressed by the legacy left by this enigmatic and versatile performer. We were no less impressed by the two magicians who have made it their mission to tell his story. If you're ever in Scranton, don't miss knocking on their door. And don't forget. The magic words are "Houdini Lives!"
Famous Houdini Museum
1433 N. Main Ave.
Scranton, PA (717) 342-5555