Hartsdale Canine Cemetery, New York

Happiest of Hunting Grounds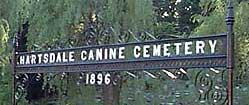 America's Oldest Pet Cemetery
HARTSDALE, NEW YORK—
"In 1896, a prominent New York veterinarian, Dr. Samuel Johnson, offered his apple orchard in rural Hartsdale, New York, to serve as a burial plot for a bereaved friend's dog. That single compassionate act served as the cornerstone for what was to become America's first and most prestigious pet cemetery."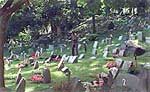 Despite appearances, no
people are buried here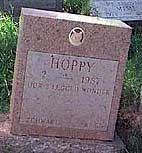 "Hoppy
? - 1987
Our Three-Legged Wonder"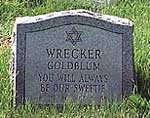 "Wrecker Goldblum:
You will always be our sweetie"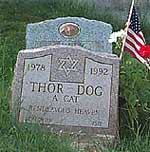 "Thor-Dog, A Cat"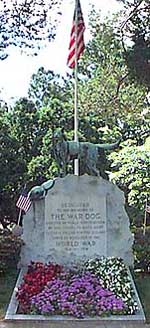 The War Dog Memorial
The Mausoleum
of Toodles and Sally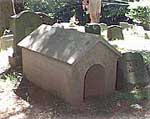 Home forever...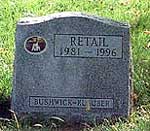 The death of Retail?
So reads an inscription inside the gate of Hartsdale Canine Cemetery, and it's easy to believe that at age 101, it's the oldest such establishment in the United States. Is it really the most prestigious? Well, let me put it this way. If you drove by the place without noticing the name, you'd assume it was humans inside pushing up the daisies.
Actually, it's begonias, not daisies, that line the pathways, and manicured lawns cover the tree- shaded hillside. A uniformed crew of gardeners was clipping, trimming and mowing when we arrived on a sunny afternoon.
The graves are slightly closer together than in most cemeteries, but the stones themselves are no less grand than those erected for well-loved, or at least well-heeled, humans. Most are granite, and pink is a popular color. On the afternoon we visited, many of the graves were decorated with little American flags. The only reason I could come up with was that Memorial Day was not too long past. But what do dogs care about Memorial Day? This was not the only unanswered question that surfaced as we continued our visit.
The cemetery covers nearly two acres, but once we started reading the stones, we couldn't stop walking and climbing. "Hoppy,
? - 1987, Our Three-Legged Wonder" was memorable. So was "Wrecker Goldblum: You will always be our sweetie." I'd never considered the possibilities of pet epitaphs before. It was a whole new genre for me, and here in Hartsdale, people had been practicing it for a century!
If an anthropologist ever wants to do a study about what Americans name their pets, Hartsdale Cemetery would be a good place for research. I started classifying the names as I went. There were the repeated-syllable variety: Bobo, Bubu, Fifi, Gigi, Lulu, Koko, Chi-Chi, Cha-Cha, Cho-Cho, Chou-Chou, Shou-Shou, Zsa Zsa and Toto. These last two suggest the next category, Famous Names, Real and Fictional: Gucci, Mr. Chips, Rasputin, Charlie Brown, Woodstock, Lassie, Benji, Ziggy, Tarzan, Lorna Doone, Pluto, Tinkerbell, Bambi, and Mickey Mouse, to name but a few.
Of course the traditional regal and military names are heavily represented— Major, Seargent, King, Rex, Duke, Prince, Countess, Lady, and Queenie— and names derived from foods and flavors are also popular: Donut, Souffle, Ginger, Brownie, Cookie, Cinnamon, Taffy, Honey, Sugar, Candy, Noodles, Pepper, and Sushi. Alcoholic beverages provide inspiration for some owners— Champagne, Drambuie, Bourbon, Brandy, Zinfandel— and of course names inspired by color are everywhere.
The classics are represented by Aristotle and Phaedo (who was a cat), and Norse mythology is recalled in Thor-Dog (also a cat) and Loki. The Bible supplied Shadrach, Enoch, and Satan. Not all the markers identified the species of the loved one, but some names left no doubt. I once knew a cat named Rover, but I'd be willing to bet that Snuffie, Sniffy and The Nose were dogs.
We wondered about names like Richard, William, Robert and Gabriel. Were there humans in here after all? And why do people name animals they love things like Swunkus, Poopy, and Gus-T-Boo?
Hartsdale Cemetery's centerpiece is the War Dog Memorial, a grand stone monument to dogs who served their country. Other significant markers include the mausoleum of Toodles and Sally and a gravestone carved in the shape of a dog house. There's also a tidy green building on the grounds. Its purpose might have remained another unanswered question, but then oily black smoke began pouring out of its chimney. Aha. The crematorium.
There was no one around to ask what it costs to have a pet interred at Hartsdale Canine Cemetery, but, given the style and grandeur of the place, I'm fairly certain you can pay considerably less to do an adequate job for a human. There's no question that when it comes to prestige, Hartsdale's at the top of the heap.
We climbed down from the top and departed. The last marker I noticed as I left read "Retail, 1981 - 1996." Well, I thought, at least that's one question answered. Retail really is dead.