A Hundred Years of Olives

ONTARIO, CALIFORNIA—
I've never met an olive I didn't like. Black, green, Greek or Spanish— I'd be happy with any one of them. But there's one olive that makes me swoon. I fell in love the first time I tasted it, back when I was a kid, and my grandparents opened a treasured can for Christmas dinner. If you haven't already guessed, or if you haven't been lucky enough to meet the world's most delectable olive, its name is Graber.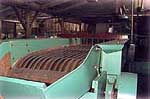 C.C. Graber's olive
sizing machine: the olives roll along nylon cords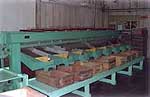 Olives are sorted by size
into bins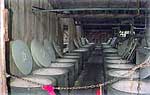 Curing vats where olives reside for three weeks in salt water that is changed every day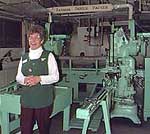 Betty Kilpatrick with the
Panama Paddle Packer canning machine, which came through the Panama Canal in the 1940's
Graber olives grow on a 185-acre ranch in California's central valley near Porterville. They're carefully harvested when they're completely ripe, which means the pickers have to go back to the same trees several times, climbing up on ladders and taking only the fruit that's really ready to go. The yearly crop weighs in at 150 tons.
After harvesting, the olives are trucked south to Ontario, California, home of the Graber Olive House. Every autumn, the Olive House turns into a beehive of activity as the olives are cured, sized and canned using the same machines and recipes invented by the original Mr. Graber over a hundred years ago. His descendants now run the business, which is Ontario's oldest.
"C.C. Graber invented the olive-sizing machine," explained our guide, Betty Kilpatrick. "The olives roll along nylon cords that get progressively farther apart. The smaller ones drop through first, and the larger ones later. Mr. Graber was the first person to size olives. Sixteens are the biggest. They're a whole inch in diameter, a very nice mouthful."
Betty showed us through the olive curing, canning, and shipping rooms. "You'll never find a pitted Graber olive," she said. "Olives can be pitted only when they're green and hard. Grabers are picked when they're totally ripe, which makes them too tender to pit."
After our tour, we visited the Graber gift shop where— hooray— guests are welcome to sample the wares. For those who've never had the pleasure, Graber olives are a mottled purplish brown. Your teeth sink into the succulent flesh, releasing a rich, buttery flavor. Mmm. Even a size sixteen is gone too soon.
Visiting the Graber Olive House, especially when Betty Kilpatrick gives you a personal tour, is the best way to get your own supply of the world's yummiest olives. If you are in Southern California, recognize your good fortune and make the trip, especially on a November weekend, when the Panama Paddle Packers and C.C. Graber's original olive sizing machine are running full tilt. If you can't, you'll be happy to know that Graber olives are available by mail order, but call early. The size sixteens sell out every year.
1/98
For more information and to order your own supply of Graber olives, visit Graber Olive House online at www.graberolives.com.