Fort Worth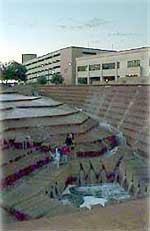 Fort Worth's Water Gardens:
Cow Town landmark since 1974
Fort Worth was a big surprise. I'd been to Dallas, and I assumed that the other half of the Metroplex would be more or less a similar sort of place. It just goes to show how dangerous assumptions can be.
Fort Worth's nickname is "Cow Town," and one of its biggest tourist attractions is the Stockyards, where Billy Bob's reigns as the largest country-western bar in the world. Downtown is Sundance Square, from which the Sundance Kid derived his name. Fort Worth personifies the wild west and the cattle industry. It's nothing like Dallas, which has an almost eastern flavor.
It was Becky, Bob, Ryan and Jessica Lommel who opened our eyes to the delights of Forth Worth. They live in nearby Mansfield, and they took us on a whirlwind tour one evening. "We need to get to the Water Gardens before dark," said Becky. We made it in the nick of time.
The Water Gardens are another Fort Worth surprise. They're right in the middle of down town and aptly named. They have no trees, no flowers, no lawns. They are mammoth concrete sculptures designed to make water do marvelous things. You can climb down inside and look up. You can climb on top and look down. You can sit and enjoy the sound of rushing water in the middle of a big city. We weren't surprised to find plenty of other people there, and we were sorry when the light faded, and we had to leave.

Fort Worth, we'll be back! We've barely begun to discover your charm!