Baldasare's Magnum Opus
FRESNO, CALIFORNIA—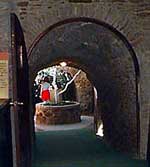 Forestiere Underground Gardens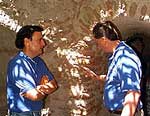 Andre Forestiere explains how Baldasare used the native stone to build archways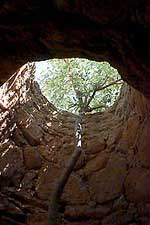 A tree reaches to the sunlight from a chamber below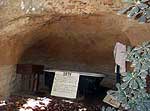 The bath alcove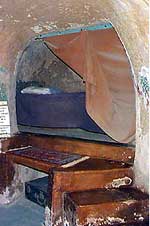 Bedroom alcove complete with peephole and stairway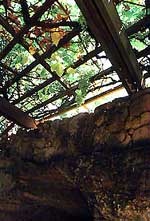 Overhead grape arbor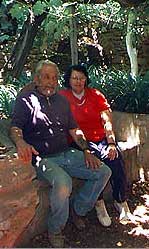 Ricardo and Lorraine Forestiere
Shaw Avenue runs east from Highway 99, a broad thoroughfare edged with motorcycle dealerships and fast-food restaurants. It's the last place you'd expect to see a row of chartered buses. With Yosemite only an hour away, why on earth would tourists pause on a nondescript stretch of urban sprawl? They stop because they know that here, in this unlikely place, beauty lies beneath the surface. They've come to visit the Forestiere Underground Gardens.
The story began back in 1905, when Baldasare Forestiere, a Sicilian immigrant who arrived in the San Joaquin Valley by way of New York and Los Angeles, bought a parcel of land upon which he intended to grow trees and vines. Unfortunately, Baldasare's dreams were dashed when he discovered that his land was a solid plate of hardpan rock, utterly useless for agriculture.
Undaunted and inspired by images he saw in his mind's eye, Baldasare began to dig. Whether, as legend holds, he was wooing a sweetheart back in Sicily, or whether he remembered architecture from his childhood, Baldasare bored down through the hardpan.
Over the next forty years, he created a subterranean network of over a hundred niches, courtyards, patios, rooms and passageways. He used the native stone to create complex arches, pathways and planters. He used only hand tools, and when he died in 1946, he had spent a total of $300 on supplies.
Contrary to what the name implies, the Underground Gardens are full of life and light. Skylights and courtyards let in sunlight and rainwater, and fruit trees and grape vines abound, lit by the sun from above, and protected from heat and frost below. Above the ground, where their crowns emerge, the trees look like low shrubs.
"He was an artist," said Andre Forestiere, Baldasare's great-nephew. "His work remains unfinished." "He was a spiritual man," said Lorraine Forestiere, Baldasare's niece. "Everywhere you look, his work reflects his faith."
"He had a sense of humor," said Ricardo Forestiere, Baldasare's nephew. "If Baldasare looked through this hole, he could see who was coming. He had viewing spots like this everywhere. He could watch people and they'd never know it."
We stood in a small chamber with a round opening in the roof. "It was an overhead aquarium," said Ricardo. "The fish swam above you."
Ricardo showed us the cozy bed niches with secret peepholes, the bath alcove carved into the bedrock, and the long "auto tunnels" that ran the length of the complex. Everything was the work ofa dreamer with the tenacity to bring his vision into three dimensions. Everything was, as Andre had noted, the work of an artist.
All too soon, Mark and I had to tear ourselves away from the spell of the Underground Gardens and emerge into the hot summer sun. With thanks to Andre, Lorraine and Ricardo Forestiere, whose unflagging commitment protects and preserves the Underground Gardens, we drove away with a new appreciation for the power of one man's dream. As Baldasare put it, "To make something with lots of money that is easy— But to make something out of nothing... now that is something."
Megan
6/99
Forestiere Underground Gardens
5021 W. Shaw Avenue
Fresno, CA 93722
(559) 271-0734