Negligees of Note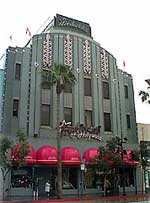 Frederick's on Hollywood Boulevard
HOLLYWOOD, CALIFORNIA—
It was raining Saturday morning, but we went to Tinseltown anyway. We arrived on Hollywood Boulevard around nine, which meant that parking was no problem at all, but we had to search for a cup of coffee. We finally found one at a place that claimed to serve the best espresso in Hollywood, which I have no doubt is true. What they aren't telling you, however, is that they may well serve the only espresso in Hollywood.
At ten, the rain had escalated from a drizzle to a downpour, and we made our way up the boulevard of stars, jumping from awning to awning until we reached our goal. There it was, Frederick's of Hollywood, which is more than just a famous store. Frederick's is home to the Lingerie Museum and Celebrity Lingerie Hall of Fame, and that's what we'd come to see. If you want to get to know a movie star, what better way than to take a look at his underwear?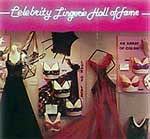 Seduction secrets of the rich and famous
We walked inside under the pink and purple sign. A stunning array of nylon creations hung on the racks and walls. Mr. Frederick's motto is, "Don't dream it...live it," and his store makes every attempt to provide you with the hardware to manifest your fantasies. Unless your fantasies revolve around a lot of net and feathers, though, you may need to look elsewhere.
At the back of the store, up a marble staircase, is the Museum. "You can take pictures in there," said a sales clerk, "But please don't photograph the sales floor." Darn. I'd been hoping to capture an image of some shiny red thigh-high spiked-heel platform boots.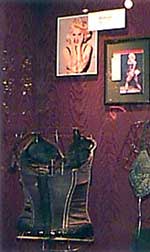 Madonna's bustier, displayed so you can compare it with the accompanying photo (Its predecessor was stolen during the LA riots, but fortunately Madonna was able to donate another one.)
The museum had displays of vintage Frederick's catalogues, some 60's-era paraphernalia for augmenting your bustline, and, true to its publicity claims, underwear once worm by the rich and famous. A black sleeveless undershirt autographed by Fabio hangs near a marabou-bedecked negligee once owned by Mae West. The bra Natalie Wood wore in "Bob and Carol and Ted and Alice" is suspended next to a bustier Madonna performed in.
In the next room, we ogled Loni Anderson's white peignoir, which was right near Cher's strapless bra, a Joan Collins relic, and Robert Redford's striped boxer shorts. A bra labeled as belonging to Phyllis Diller had "This side up" embroidered across the front. And there's more. Milton Berle's drag queen get-up is in a case all its own, and two framed edicts signed by Mayor Tom Bradley announce that Frederick's Lingerie Museum is "one of Hollywood's most popular tourist attractions."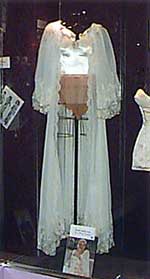 Loni Anderson slept here
The museum spills out into the store, where along one wall is a case full of mementos from Hollywood's golden age: the black petticoat Greta Garbo wore in "Anna Karenina" and garments that were once intimate with Ava Gardner, Elizabeth Taylor, Loretta Young, Ethel Merman, and Lana Turner, to name just a few.
And the collection is growing! A corner display case has underwear from every cast member of "Beverly Hills 90210," including a pair of camouflage underpants that Tori Spelling wore with a neon orange bra and a cartridge belt. The khaki boxer shorts Tom Hanks sported as Forrest Gump hold a place of honor, as do Cybill Shepard's bra and a stretchy gray exercise top signed by Rosie O'Donnell.
We stepped back out into the rain feeling newly educated in the significance of undergarments, and keenly aware of how important it is for stars— and maybe all of us— to wear the good stuff, even when it doesn't show. You never know when your skivvies might end up in a glass case where the world can draw important conclusions about you.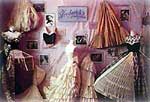 Golden Age glam
Frederick's of Hollywood is worth a gander if you find yourself in movieland, and it's flanked by two other retail marvels. On the east side is Hollywood Toy and Costume, a huge store with walls and walls of masks, wigs, and every costume accoutrement you can think of, and on the west is St. Pierre's Hollywood Magic, Inc., which sells real magic to real magicians.
By the time we left, Hollywood had awakened, and busloads of tourists were rubbing their hands in the soggy indentations in front of Mann's Chinese Theater and walking along the sidewalk, heads down, looking for their idols' stars. I wanted to yell, "Hey, why look at their stars when you can see their underpants?" but I refrained. I hope they were lucky enough to discover Frederick's without my help.