Chocolates & Cholla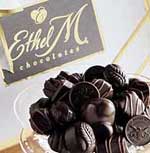 Ethel M Chocolates:
The "M" stands for "Mars," but it really means "Mmmm"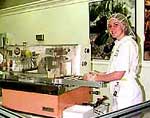 Almond clusters get their
coats on an "enrober"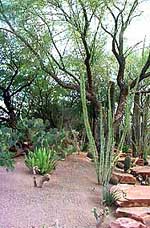 The Ethel M Cactus Garden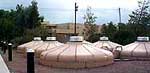 First stop for the factory's wastewater: the Living Machine's sealed tanks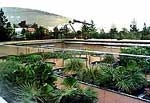 Plants work cleansing magic
in the Living Machine's open tanks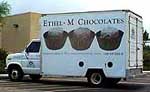 Sweet roll: An Ethel M delivery truck
LAS VEGAS, NEVADA—
Chocolate might not be the first thing that comes to mind when you think about the desert, and it certainly isn't the first word most people associate with Las Vegas. But that's before they find out about Ethel M.
Ethel M was founded by Forrest Mars, Sr., the patriarch of the Mars candy company (of Snickers and Milky Way fame). Mr. Mars retired from the family empire in 1976, but, not being the kind of person to put his feet up on the front porch, he decided to build a new factory where he could make fine chocolates the way he remembered his mother making them when he was a child. His mother's name was Ethel, and many of her recipes and methods are still used to create the confections named in her honor.
When you visit Ethel M Chocolates today, you can look right inside the factory through large glass windows. The first room on the tour is the kitchen, where all the candy fillings and centers are cooked. If you've timed your visit right, you might see, as we did, confectioners pouring huge batches of pecan brittle onto cooling tables, and smoothing it out with huge stainless steel rolling pins. Or you might see any number of other wonderful things. The Ethel M factory creates over fifty different kinds of chocolates, and all the centers are made in the kitchen, one tantalizing batch at a time.
The next room is where the candies get coated in chocolate on long machines called enrobers. We watched legions of raspberry centers emerge completely coated in milk chocolate. Also in this room are molding machines used to form chocolate shells for candies with soft centers, like Ethel M's famous liqueur-filled chocolates. The processes are explained on video monitors, and there are placards in front of the windows identifying all the machines.
In another smaller kitchen, we watched almond cluster candies being made and coated on an enrober. This was arguably the best part of the tour, because the small kitchen has no glass windows, and the confectioners gave us a taste of what they were making. Mmm.
In the last room of the factory, we watched how chocolates are wrapped individually in foil, and then we emerged into the Chocolate Shoppe, where we were offered a 'complimentary taste.' I tried a Lemon Satin Crème, and Mark had an Almond Butter Krisp. Both were so good that we bought some to enjoy while we toured the Ethel M Cactus Garden.
As if a chocolate factory with windows weren't enough, Forrest Mars also built one of the most beautiful and extensive desert gardens in the country. It covers over three acres and boasts over 350 different species of cactus and other desert plants and trees.
Next to the Cactus Garden is yet another marvel, an installation called the Living Machine, a water recycling plant that mimics natural wetlands to clean all the wastewater from the factory. About 32,000 gallons of gray, greasy effluent enters the Living Machine every day, and the reclaimed result is used to irrigate the garden and wash Ethel M's fleet of delivery trucks. Samples of "before" and "after" water are on display, proving that the Living Machine is a true miracle worker.
So now, when you think of Las Vegas, think chocolate! Ethel M is a place to visit more than once. And if you can't get there in real life, check out Ethel M's online Chocolate Shoppe! (The Ethel M Web site also provides information about visiting hours and directions.)
Megan
8/00