Blame it on the Bean Dip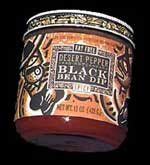 EL PASO, TEXAS—
Yes, it was a jar of black bean dip that made the Phoenix detour into the heart of El Paso, Texas.
It all started back on Long Island, where our friends Chuck and Sara Ijadi served us some of the delectable stuff. "It's our last jar," thay said as we finished it off. "We don't know how to get any more. We've got the address, but we haven't been able to uncover a telephone number."
"We're headed in the right direction," we said. "We'll see if we can track down the dip on our way through Texas."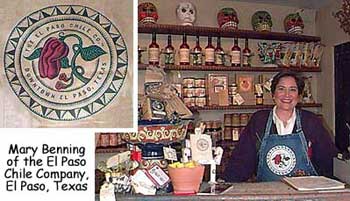 Fortune smiled upon us as we made our way through El Paso. We arrived in town during business hours, located Texas Avenue easily, and even found a place to park. We knew we were in the right place as soon as we walked inside.
Black bean dip is just one of 53 products manufactured and sold by the El Paso Chile Company. Norma Kerr, Monica and Sean Henschel, Park Kerr and Martina Lorey are all members of the extended family that creates the recipes and products that can be found in gourmet shops around the world. Park is an expert on Mexican and southwestern cuisine, and has written a number of cook books.
Mary Benning wrapped up a jar of black bean dip for us, and it will soon be winging its way to Long Island. If you're wondering whether a condiment can really be good enough to merit a transcontinental search, you'll be happy to know that you don't have to make the trek yourself to find out. El Paso Chile Company will send you a mail-order catalogue.
On the other hand, if you need an excuse to hit the road, this might be your chance. Just blame it on the bean dip!
El Paso Chile Company
909 Texas Avenue
El Paso, Texas 79901
(915) 544-3434
www.elpasochile.com