Denver International Airport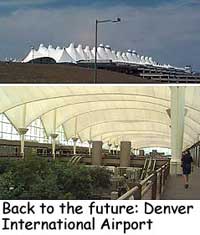 DENVER, COLORADO—
The last time we were in Denver was January 23, 1995. The new airport was scheduled to open the next day, and elaborate logistical schemes were afoot to shut down operations at Stapleton, the old airport. Exactly at midnight, everything from landings to rental car pickups commenced at Denver's futuristic new facility.
Denver International Airport was already world famous, not because it's the largest in the United States, but because the amount it ran over budget exceeded the gross national product of a medium-sized country. In addition, United Airlines' computerized baggage-handling equipment was reported to be better at mangling than delivery.
As soon as Denver International Airport opened on January 24, 1995, it fell out of the headlines. Even the baggage equipment worked like a dream, and it is rapidly becoming the major hub it was built to be.
We needed to buy a plane ticket, so we decided to do it at the airport. The first thing we noticed was how far away it is from downtown. Denver's a boomtown, and the planners must be looking ahead. The main terminal, with its range of white peaks, rises solitary from a plain. "It would make a perfect set for a science fiction movie," said Mark. Inside, the terminal looks like a cross between a big top and a cathedral. The floors are polished granite, and a forest of subtropical trees fills the center. Dignitaries from another planet could be greeted in proper style here, and the Enterprise would look perfectly natural sitting at one of the gates.
We didn't have the pleasure of lifting off from the runway and watching the white sails disappear below us. We heard later they're supposed to represent the tallest peaks in the Rockies. With the growing popularity of Denver's mega-port as a hub, it won't be long until they're a familiar site to every frequent flyer.
8/96