New Croton Dam, New York

New World Wonder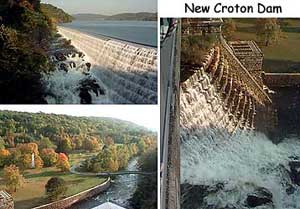 New Croton Dam celebrated its 90th birthday this year. Stretching across the Croton River in Croton-on-Hudson, New York, the stone structure was begun on September 20, 1892, and completed January 17, 1906. It's 297 feet high, 2,168 feet long, and has a capacity of 30 billion gallons.
Its major caim to fame, however, is that its the largest hewn-stone structure in America, and the second largest in the world. Only Egypt's Great Pryramid beats it!
Built for function, Croton Dam looks more like a work of art. Water crashes down the stone spillways on both sides, and the views from the top are spectacular. Add in a perfect autumn day, and Croton Dam truly qualifies as a world wonder.