Where The Asphalt Meets The Sea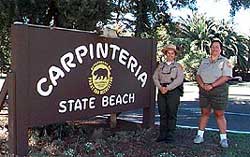 Linda Tornello and Melinda Lowe
welcome visitors to "the world's safest beach"
CARPINTERIA, CALIFORNIA—
The pavement does lead nearly to the breakers in Carpinteria. Almost precisely halfway between Santa Barbara and Ventura on California's southern coast, this quiet town boasts a protected beach renowned for being "the world's safest."
But it's not a highway surface to which I refer when I call it a place where asphalt meets ocean. Those aren't black rocks in the pictures below. They're embankments of pure asphaltum, the sticky black stuff that has been a feature of this beach since time immemorial.
| | |
| --- | --- |
| A view south toward Ventura... | ...and north toward Santa Barbara |
The Chumash Indians used the tarry substance to make their canoes, bowls and jars waterproof, to attach arrow and spear heads, and even for decoration. Mishopshnow, the village that grew around the industry the asphaltum created, was one of the largest Chumash settlements anywhere.
The town got its current name in the eighteenth century, when Spanish soldiers called it " La Carpinteria," the carpenter shop, when they saw Chumash craftsmen building a canoe.
Although asphalt was mined in Carpinteria until the 1930's, little evidence of the commercial operations remains. The beach is a state park, one of California's most popular. The place is popular with birds, too, and the tide pools teem with marine life.
Next to the state park is an area known to locals as "The Carpinteria Bluffs," a 52-acre plot of land that was recently threatened with subdivision and development. Citizens for the Carpinteria Bluffs (click here for online info), a grass-roots organization founded by concerned residents, has recently raised the money to purchase the parcel and preserve it in its natural condition as a park.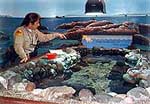 Park Ranger Linda Tornello points out a sea cucumber in the visitor center's indoor tide pool
We happened upon Carpinteria State Beach on a rare day. The weather was summer-perfect on December 17, but only a handful of visitors joined us on the shore. "You were very lucky," said park ranger Linda Tornello. "This park is completely full every holiday weekend and all summer. We have families who have been celebrating Thanksgiving here for generations, and we'll be full for Christmas and New Year's, too."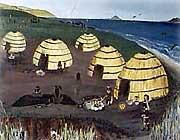 Murals by a local artist illustrate
the lifestyle of the Chumash
Linda showed us the park's visitors center, which features an indoor tide pool built and maintained by volunteers. The center also has murals depicting the history of Carpinteria and the lifestyle of the Chumash Indians.
Carpinteria State Beach
Highway 224, off U.S. Highway 101, 12 miles south of Santa Barbara
telephone: (805) 684-2811 or (805) 968-3294