Ghosts and Gunfights

Sign on one of Calico's attractions
CALICO, CALIFORNIA—
"Nothing to frighten children or adults. It is simply amazing, amusing, and confusing." So reads the sign above one of the establishments along Calico's main street, inviting all comers to a tour of a cunningly crooked house. It's the sort of attraction more commonly associated with amusement parks,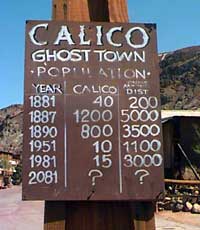 Calico Ghost Town population statistics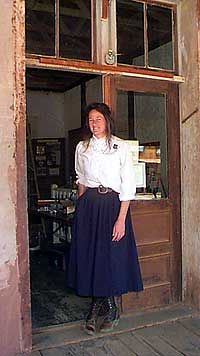 Serena Steiner, Calico's historian
but the sign is actually fairly accurate in describing Calico as a whole. There's nothing frightening about the place, but if you opt for a visit, there's every chance you may find the remains of this onetime boomtown "amazing, amusing, and confusing."
There's no argument that Calico is a real ghost town. Established in 1881, Calico produced $86 million in silver and $45 million in borax during its glory years. At its height, the town boasted a population of 1,200, 22 saloons, a "Chinatown," and a well-known red light district. When the price of silver plummeted in the 1890's, the town survived on borax revenues until its official death in 1907.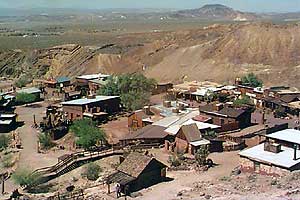 View of Calico and the Mojave Desert below
Calico's ghosts slumbered on its barren desert hillside until 1951, when a man named Walter Knott purchased the real estate upon which it sat. The same entrepreneur who founded Knott's Berry Farm, Walter Knott set out to make Calico not only amazing, which it was already, but also amusing, which is why if you visit today, you can tour a crooked house and witness a staged gunfight.
Probably unintentionally, Walter Knott also made Calico remarkably confusing. It's hard to tell, fifty-something years later, what was the work of 19th-century mining engineers and what was enhancement by an entrepreneurial theme park owner. Even Calico's historian is sometimes challenged by the juxtaposition of mining history and subsequent restoration. Primary source material from the Walter Knott era is patchy, and he did a very good job of aging his building materials to make them look like the genuine ghost town article. To put it simply, it's hard to tell what's old and what was added in the 1950s. Is Calico a ghost town or an amusement park?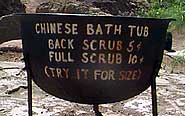 "Chinese bathtub"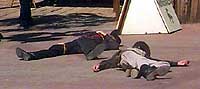 Outcome of staged gunfight
In spite of Walter Knott's enhancements, Calico is very much a real ghost town. Thanks to the fact that he donated the site to San Bernardino County in 1966, Calico is now a regional park with a professional historian on its staff, and the full panorama of the town's colorful past is emerging. A Visitors' Center housed in one of the town's original buildings has just opened, and it's replete with vintage photographs, copies of historic newspapers, and other materials dating to Calico's glory years . Placards explaining the structures on the site are informative and accurate. It's beginning to be fairly easy to tell what's "original" and what is "Knott."
But the crooked house lives on, and so do the staged gunfights, the house made of bottles, and a large cauldron labeled "Chinese bath tub." You can take a train ride, and you can look down over an expansive view of the Mojave Desert. Calico is a delightful patchwork, the product of a checkered past, all woven together into a sight worth seeing. It's right off Interstate 15 near Yermo, between Barstow and Baker. Are you heading for Death Valley or Las Vegas? Stop by Calico as you head east from Los Angeles, and prepare to be… amazed, amused, and confused.
Megan
Calico, California
6/01