To Russia, by Subway
BRIGHTON BEACH, NEW YORK—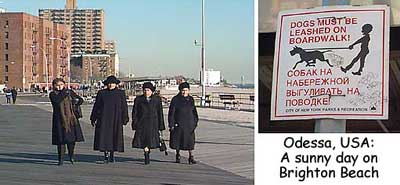 We got off the subway at Coney Island, the end of the line in Brooklyn. The Cyclone roller coaster had been shut down for the winter, and a solitary concessionaire was selling tickets to a cockroach circus. We'd missed hot dog season, so we headed up the boardwalk.
Clear skies had attracted cyclists, roller-bladers and dog-walkers, but as we made our way north, we noticed people clad in fur coats and hats basking on the benches. "They aren't speaking English," said Mark. A bilingual sign revealed that we'd found our way to Little Odessa. Brighton Beach is one of the largest Russian communities outside Moscow, and it looked as though every resident was making the most of a sunny day.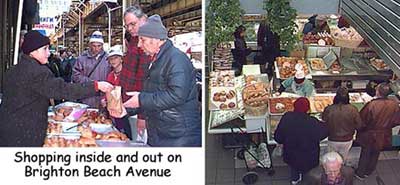 It's hard to find a sign in English on the two blocks of Brighton Beach Avenue under the elevated train, and we were obvious tourists. Street vendors hawking everything from sweaters to pastries obligingly switched to English as we passed.
We went inside M&I International Foods, where a stunning array of meats, sausages, chickens, caviar, cheese, chocolate and bread had attracted everyone who wasn't relaxing on the boardwalk. Clerks in starched uniforms and lace hats were keeping dozens of cash registers ringing. Most of the customers pulled wheeled wire carts piled high with a week's worth of groceries.
We tried the wares of a sidewalk vendor, and bought a loaf of caraway bread. We climbed back on the subway feeling as though we really had been halfway around the world. Next time you're in New York, remember that US$1.50 is all it takes to get to Odessa, and you don't even need a passport.
11/96
M&I International Foods
249 Brighton Beach Avenue
Brighton Beach, New York